Volkswagen Golf Mk1 Cabriolet (1979 - 1993)
Last updated 12 May 2017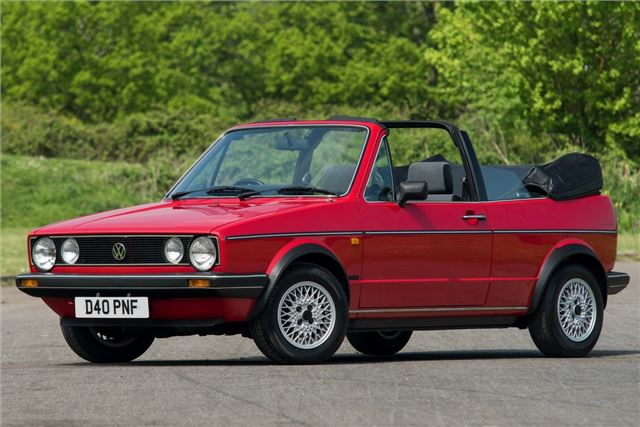 Buying Guide
Good
Very popular convertible of original giugiaro designed Golf Mk I.
12' 3" long by 5' 3" wide.
1.6 carb. 1.8 carb and 112bhp 1.8 injection engines.
Though production of Mk 1 Golf hatch ended in 1983 in Europe, the Mk 1 cabrio continued right through to December 1993 after which it was replaced by the Mk III cabrio. PAS from VW Scirocco II fitted to late LHD models. A small batch of the very last RHD Mk 1 cabrios has officially commissioned retro-fitted Power Assisted Steering.
Bad
Complicated left-to-right brake linkage robs brakes of feel and makes action unpleasant.
Notchy 'across the gate' gearshift. (The first LHD Golf GTis were 4-speeders).
No power steering even on cabrio unless retro fitted using LHD Scirocco GTi 16v parts or a kit from TSR of Bridgwater.
Watch
Rust. All Mk 1 Golfs rust and though rustproofing was improved by the time official imports of RHD GTIs started, they can still be bad.
Also check for accident damage and the general quality of the inevitable modifications.
Back: Introduction
Next: Running
Buy a Volkswagen Golf from £3,000