Vauxhall Vectra (1995 - 2002)
Last updated 29 November 2016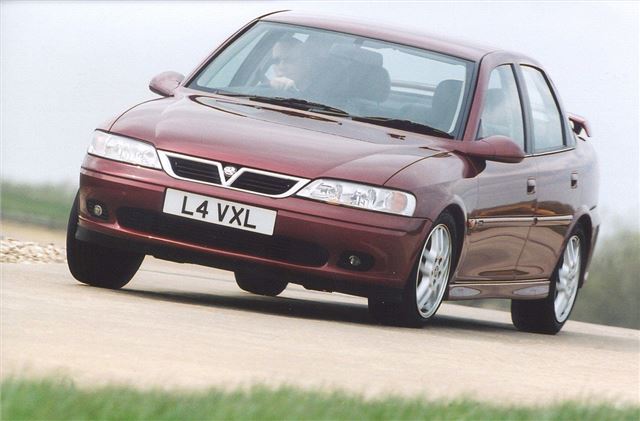 Buying Guide
Good
Reasonable build quality.
Comfortable ride.
Some (but not all) cheap spares.
Especially good on motorways.
Most UK cars built at Luton.
Vauxhalls generally had below average warranty repair costs in 2003 Warranty Direct Reliability index (index 84.4 v/s lowest 31.93) www.reliabilityindex.co.uk
Bad
Until the 1998 improvements, a whole step backwards from the Cavalier. 

Clutch replacement remains a five- to-six-hour job involving engine removal instead of the simple half-hour job it was on the Cavalier. 

Earlier cars suffer stodgy handling with severe understeer, which is not entirely cured even in the latest 1999 model Vectras. 

Terrible driver's seat on early models with no steering wheel height adjustment (corrected from 1997 model year). 

Styled door mirrors give limited view. 

15th from Bottom of 100 models for reliability in Auto Express 2002 survey. See 'What to Watch Out For' for a lot more faults. Only 88% breakdown free in 2003 Which survey.
Watch
Ex-Vauxhall Masterhire cars come with trustworthy print-out of full service history, including cambelt changes every 35,000-40,000 miles. Vectras from other fleets might have been clocked, so be sure to check mileages properly. 

Timing belt and tensioner changes re-scheduled from 80,000 miles to 40,000 miles on engines which have them. Timing belts on 4 cylinder 16v engines also drive the water pump which can shed its impeller blades and seize, throwing off the belt, so best to change water pump too. Tensioner bolt which passes through oil pump also prone to fracture, leaving belt untensioned and apt to fly off. 

Internal roof stiffener bars on estate models can become unglued due to heat and cold on the roof and cause a rattle. 

Plug leads deteriorate and are ridiculously expensive to replace. Whole dash needs to come out to replace odometer bulb. 

Make sure ABS light comes on, then goes out when it should. 

If engine misses, may have faulty ECU and cat may be hot spotted. Alternatively, may be camshaft or crankshaft position sensor: a £150 - £170 job, but a lot more if the misfire has spiked the cat. Or may simply be moisture in the connectors (a very common Vauxhall/Opel problem). 

May suffer steering column rattle. 

May have been run on cheap petrol and suffering sticking valves as a result. 

Check all window regulators work. 

If idle speed of 1.6. 1.8 or 2.0 petrol engine is 1200 - 2000 rpm the problem is the idle adjustor control valve (Air Intake Control Valve). Needs cleaning with fuel system cleaner but if that doesn't work it needs replacing at £113 + VAT and modifying by fitting an oil separator. Tends to happen at 60-70k miles. Make sure a/c blows cold. Replace batteries in remote keys every year as failure leaves you locked out of the car and requires expensive recoding. 

Suffers corrosion of area around rear door latches, as well as to the sills, A-pillars, rear subframe mounts and door botoms.
Reports of water pump failure throwing off timing belts on 2.0 litre 16v petrol models. 

Noise from rear of car which sounds like wheel bearing noise is usually due to uneven rear tyre wear. Older SRis on Firestones may suffer premature tyre wear. Best tyres for older non-sporty Vectras are Pirelli P6000s. Best for new SRis and GSis are Yokohamas. Front suspension can wear prematurely. Repeated a/c compressor failures are common and using the a/c once a week does not seem to prevent this. 

Poor starting of older Isuzu 1.7 diesel may indicate the need to have the valve clearances re-shimmed. ECUs of Isuzu diesels prone to failure and cost £500 to replace. But there is a DIY Fix: Remove air intake pipe (2 clips + plug), Unplug the DCU. Unbolt the DCU (4x10mm bolts). Remove the back cover of the DCU. Re-do obvious dry solder joint in middle of PCB. Re-seal DCU. 
Replace components. 

On petrol engines the waterpump is driven by the timing belt and needs replacing every second belt change, ie at 80k miles.

Clutch failure may be due to failure of a no return valve in the pipework rather than failure of the clutch master cylinder or slave cylinder. 

Chrome over the plastic interior door handles splits into sharp edges that can lacerate your fingers.
Recalls
1996 (8/95 to 2/96 build: 40,000 cars): check front seatbelt mounting bolts and tighten if necessary.
1997 (1995-1996 1.6 16vs only-27,000 cars): Possibility of failure of plastic cambelt idler pulley GF50, which can snap cambelt. Changed as an 'in service mod' when cambelts are changed at 35,000-40,000 mile intervals.
1997 (Jan-May '96 build): Fuel pipe may come off at tank.
1998 (all 200,000 built before July 1998): handbrake cable subject to premature wear. Modified cable free replacement service.
1998 (automatics only): in service modification to autobox ECU mapping.
1999: possibility of failure of cambelt idler pulley on petrol engined 'P' to 'R' reg Vectras (Vauxhall Recall Helpline: 01189 458500 or 01582 427200)
June 2000 recall of V6 models due to crankshaft fault. 2001: TSB about voltage spikes from the alternator damaging the camshaft sensor. This is prevented by unpicking the wiring loom and re-routing the cam and crankshaft sensor cables together around the front of the airbox, keeping them away from the alternator.
Back: Driving
Next: Running