Vauxhall Monaro (2004 - 2006)
Last updated 31 May 2017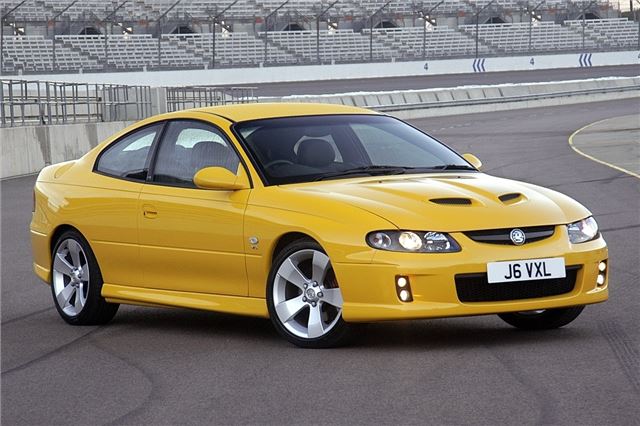 Model Timeline
March 2004
Australian built RHD Omega sized coupe with 302bhp 5,665cc V8 that also pumps out a useful 339 lb ft torque at 4,400rpm. Comes with six speed manual from Corvette, or four speed autobox. 0-60 in 6.5 seconds, tops out at 153mph, yet cruising can manage 23.2mpg. For 2004, model had 328bhp and puts out 347 lb ft torque, does 160mph and 0-60 in 6 seconds.
UK spec for 300 Vauxhall badged imports includes leather six-way electric seats, 18" alloys, climate control, 6CD autochanger, standard traction control with an off switch.
April 2004
Arrived in UK at prices from £28,650, to rival MGZT 260. 380bhp factory version VXR at £35,595 from summer 2004.
March 2005
Revised standard model for 2005, but toned down from original plan with 'only' 345bhp. List price £29,895.
6.0 litre 404PS 400bhp Corvettle LS2 powered Monaro VXR on sale in UK from March 2005. 530Nm torque. 180mph top speed. So faster even than Lotus Carlton and 'fastest ever' car with a Vauxhall badge. Extremely well sorted with balanced handling and a real pleasure to drive. A sort of Australian Ferrari Scaglietta.
Last Holden Monaro off the production line was officially auctioned on eBay in February 2006. It fetched just shy of $A188 000, or three times the retail price, at around 2.5 $A to the UK Pound. All proceeds went to the Leukaemia Foundation. It's being stored in climate controlled conditions and the buyer says "We'll see what it's worth in four years, then I'll know if I'm mad or not."

11-01-2007: For 2007, UK only limited-edition VXR500 is based on old stocks of the standard 6.0-litre Monaro VXR, but uses supercharged forced induction to take the power from 403 to 500PS and torque up from 530Nm to a massive 677Nm. In addition to the positive displacement supercharger, the conversion also includes an upgraded fuel system, clutch revisions and bespoke engine tune. Sub five second 0-60 time and top speed in excess of 180mph, yet surprisingly relaxing to drive, as most of the torque is available low down in the engine's rev range. £35,995 on-the-road.
Back: Introduction
Next: Buying Guide
Compare classic car insurance quotes and buy online. A friendly service offering access to a range of policies and benefits.

Get a quote