Vauxhall Astra (1998 - 2004)
Last updated 9 September 2019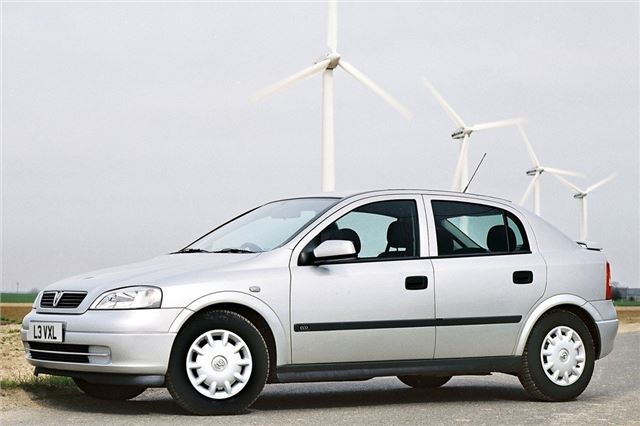 Buying Guide
Good
Four stars for passenger safety in 1999 NCAP tests, which was a good result then. 

Decent build quality. Most UK cars built in UK at Ellesmere Port. Aircon often fitted.
Ski-hatch to boot.
Three proper three-point rear seatbelts standard across the range.
Vauxhalls generally had below average warranty repair costs in 2003 Warranty Direct Reliability index (index 84.4 v/s lowest 31.93). Astra 6th from top in 2006 Index www.reliabilityindex.co.uk
1998-2000 petrol models had fewest breakdowns, average problems and faults; 2001-2003 had fewest problems and faults and average breakdowns in 2003 Which? survey.
Bad
Nondescript, 'hamster'-like styling. Ride quality may be too firm for some. Is regarded as 'also ran' to Golf Mk IV and Ford Focus and does not hold its value as well. (This is something for the second-hand buyer to take advantage of.) 

On 1.6 engines the timing belt has to come off (and be replaced) in order to replace the engine thermostat. It's therefore recommended to replace the thermostat at the same time as the timing belt, tensioner and pulleys.
Watch
Most used examples originally from fleets, so look for signs of careless driving such as kerbing. Check front tyres for uneven tread signifying suspension misalignment. 

A batch of faulty sealant left some mid-1999 Astras prone to condensation inside the headlights and foglights. 

Lift front carpets and check for water underneath. The cure is either re-sealing the front bulkhead or re-sealing the pollen filter carrier. 

Blower fans fail. May also mist up because vent flap mechanism has broken. May also mist up because water drips down wiper shaft and soaks pollen filter. 

The old Vauxhall Cavalier and Vectra steering column failure seems to have re-emerged with the G Type Astra, though while the mode was current Vauxhall usually paid the replacement costs. 

One report of premature cat failure at 3 years and 35,000 miles. In this case, Vauxhall paid 50%. 

Drain plug threads strip on aluminium sumps of 1.8s. 

Exhaust manifold of 1.8s prone to cracking and Vauxhall quote £700 because it contains the car converter. 

Vauxhall Z22SE 2.2 litre engine was modified from March 2002, engine number 11065400, to overcome timing chain lubrication problem. The problem was caused by an undersized oil spray nozzle which got blocked, starving the timing chain of oil. If the timing chain problem has been subsequently rectified, a modified `bolt' is fitted, with `nicks' on the corners of the hexagon. 

Ignition barrel is manufactured from poor quality plastic which overheats so that the ignition key is difficult to remove, does not return and consequently leads to a burn out of the starter motor. Costs around £300 to repair. 

ECUs of 1998 to 2000 1.6 16vs can suffer from corrosion of resistors. ECUs have been replaced FOC on cars up to 4 years old. 

Springs in rear brake compensators fail and are not available as a separate part. A new compensator is £150 fitted. 

Overactive alarm fault quite common. Needs new ECU. 

Timing belt and tensioner changes re-scheduled from 80,000 miles to 40,000 miles on engines which have them. Timing belts on 4 cylinder 16v engines also drive the water pump which can shed its impeller blades and seize, throwing off the belt, so best to change water pump too. Tensioner bolt which passes through oil pump also prone to fracture, leaving belt untensioned and apt to fly off. 

Reports of gearchange problems with 2.2 petrol. 

Hesitencey of 1.8s between 1,500 and 2,000rpm now cured by a software download to the ECU. Poor running of 1.6 and 1.8 petrol engines can be cured by bypassing the EGR and remapping the ECU to compensate.

Rear springs can break due to damage by road humps. 

Overactive alarm fault quite common. Needs new ECU. 

Rear wash wipe motor failures. 

Front windscreen wiper driver side arm pops off its retainer. You have to purchase the entire new unit and motor at significant expensive. 

On 1.8 petrol, when timing belt is replaced at 40k miles, tensioner, pulleys and waterpump need replacing too.
On earlier Z14XEP 1.4 litre petrol engines, the return hose can shear off the waterpump, leading to head gasket failure. This union was only made of plastic on the original engines, but has been stealthily replaced with a sturdy metal connection instead on subsequent revisions. However, no known TSB was issued. 
DIs seem to need new mass/airflow sensors every 36,000 miles. 

Poor starting of Isuzu diesel may indicate the need to have the valve clearances re-shimmed. 

Engine ECUs of Isuzu diesels prone to failure and cost £500 to replace. But there is a DIY Fix: Remove air intake pipe (2 clips + plug), Unplug the DCU. Unbolt the Diesel Control Unit (4x10mm bolts). Remove the back cover of the DCU. Re-do obvious dry solder joint in middle of PCB. Re-seal DCU. Replace components. 

Rattle from front may be nothing more than a loose bonnet catch and not the contents of the catalytic converter. 

On 1.7 diesels, oil pump drive cambelt pulley can fracture after a timing belt change that puts more stress on it. The inner comes away from the outer of the. Common fault when they ahve done a lot of miles and the oil pump pulleys ahve not been changed at the same time as the belts.
10-5-2015: Reader informed us that the 1.4 and 1.6 litre petrol engines of the Astra G are actually designed to use oil at the rate of 0.6 litres per 1,000 kilometres. (This is clearly stated in the user manuals). Many 'banger buyers' of this now old car will be unaware, so are likely to run out of oil. Apparently the engines can also seize up if you leave them lying for 2 weeks holiday because the oil rings become congealed. 
26-11-2015: Heater fan of Astra would only work on 4th setting. Reader replaced the resistors and still the same. This is the same fault and same 'cure' that has been causing Zafiras to catch fire. The fault is probably water getting into the fan motor with the result that it will only work on max. Get the fan motor checked and check for water leaks from a badly fitted replacement windscreen or flooded bulkhead vent well. Do not under any circumstances bridge or fit a higher rated fuse to the resistor or the car wiring could catch fire.
24-11-2017: Flickwering oil light on 96,000 mile 2002 Vauxhall Astra 1.6 most likely to be due to failing oil pressure sensor.
Recalls
Depending on source of supply, some models developed noisy power steering pumps. Free-of-charge replacement programme spring 1999.
14-7-2000: 3,008 3-door models built between January 1998 and October 1998 recalled for replacement of front seat adjuster spring which can lose its tension. (Press release received 15/7/2000.)
2001: TSB about voltage spikes from the alternator damaging the camshaft sensor. This is prevented by unpicking the wiring loom and re-routing the cam and crankshaft sensor cables together around the front of the airbox, keeping them away from the alternator.
22-08-2002: 2,436 Astras VIN range WOLOTGF3522184592 to WOLTGF672BO14989 recalled because batch of brake calliper pistons may release hydrogen gas into brake fluid. Where found to be from faulty batch are to be replaced.
Back: Model Timeline
Compare classic car insurance quotes and buy online. A friendly service offering access to a range of policies and benefits.

Get a quote