TVR Griffith (1991 - 2000)
Last updated 5 October 2013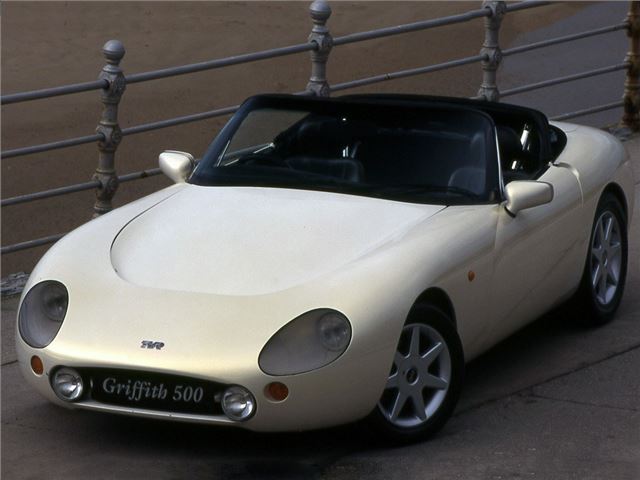 Although everyone associates TVR with burbling V8s, it wasn't until 1983 that a Rover-powered roadster, the Tasmin 350i, rolled out of the Bristol Avenue factory in Blackpool. The first Rover-powered V8 TVR was the wedge shaped 350i, but the company really got into its stride with the V8S, Griffith and Chimaera.
Introduction
This, the second TVR to wear the Griffith nameplate, had originally appeared at the 1990 Birmingham Motor Show, but that was a toe-in-the-water concept devised to gauge interest. It worked. TVR was inundated with orders and then spent the best part of two years delivering a car to deliver on those initial deposits.
Given TVR's ambitions to move upmarket, it was decided to push the boat out with the Griffith. A new backbone chassis, based on that of the Tuscan racer, was developed, and its more sophisticated double wishbone suspension was also carried over.
A Rover V8 breathed on by the company's Coventry based subsidiary, TVR Power, powers the Griffith. It came in plenty of guises – 4-litre in two states of tune, a 4.3-litre, and the mighty 5-litre version. Our test car came the 4-litre in 240bhp form, the closest match to the RV8's altogether more relaxed 190bhp.
Performance
Power-up the TVR and no punches are pulled. It explodes into life, and idles with a barely suppressed fury that positively begs you to blip the throttle.
Even before you set off, the TVR leaves you in no doubt that your right foot is in control of an awesome wedge of power – it pulls like a steam train from 1000rpm in any gear. It's a relentless but elastic shove that almost renders the gearbox redundant. Cog swapping results in a change in exhaust note – an exercise saved for tunnels and built-up areas. It's yobbish, but we love it.
As revs rise, it sounds increasingly intoxicating – and its bass-heavy American backbeat is replaced by a competition car style shriek. It's is as fast as it sounds – 60mph comes up in 4.9 seconds and it tops out at 150mph, but remember, this is the 'entry-level' Griffith. If you need more speed, go for the 350bhp Griffith 500.
Handling and ride
You'll pull away in the TVR cursing its heavy steering – unlike the RV8 you'll need to dial in a fair bit more speed before it shows signs of livening up. At first its unwieldiness fears you into thinking you'll never be able to control the tail if things get frisky, but get past that and dial into its brisk response and you'll soon get the hang of it.
The Griffith is a physical car to drive and it demands a lot from its driver. There's plenty of performance to play with, but you'll need your wits about you to keep it on the straight and narrow. Both cars have Quaiffe limited slip differentials, but it's the TVR that has enough power to really demand questions of it – powering out of any slow corner has you playing with the throttle in order to keep the back end in check. And in the end, that has you wishing for a racetrack in order to experiment.
The ride is firm but ultimately more controlled in damping. Rough B-roads still have the tail hopping in protest, but you'll be going a lot faster in the TVR when it happens. Truth is, the Griffith is almost impossible drive slowly – it eggs you on to push it to the limit. That's fun if you're Kimi Raikkonen, but it reminds the rest of us how little we know about driving.
The inside story
The TVR's dashboard is curvaceous and some of the minor controls such as the interior door releases and gear knob are suitably gorgeous. There are a few unmarked switches to contend with, and one or two Ford items in the mix, but overall, it's the Griffith that's the more homogenous effort.
The driving position is sporting. You sit extremely low in the snug but spacious cabin, and that allows you to feel at one with the car. It makes town driving a bit of a nightmare, but we suspect that's not going to be a major priority for most potential owners.
Classic appeal
The beautiful TVR is not an uncommon sight, but it still has the looks to stop traffic. It's not all good – owners tell us that every traffic light sees someone having a go. Despite that Griffiths seem to command respect not envy.
Given its relative scarcity and the success of the styling, the Griffith has the strongest values in the TVR lineup. However, values are only now beginning to flatten out, although they are now bottoming out, with the best set fair to appreciate in coming years. Unlike many Nineties cars, the Griffith is already a firmly established classic.
Verdict
The TVR is an out-and-out sports car. If you like an exciting life, we'd have no hesitation in recommending the Griffith – in just about every objective category, it is fantastic fun.
Back: Introduction
Next: Buying Guide
Compare classic car insurance quotes and buy online. A friendly service offering access to a range of policies and benefits.

Get a quote