Triumph TR7 and TR8 (1975 - 1981)
Last updated 28 January 2014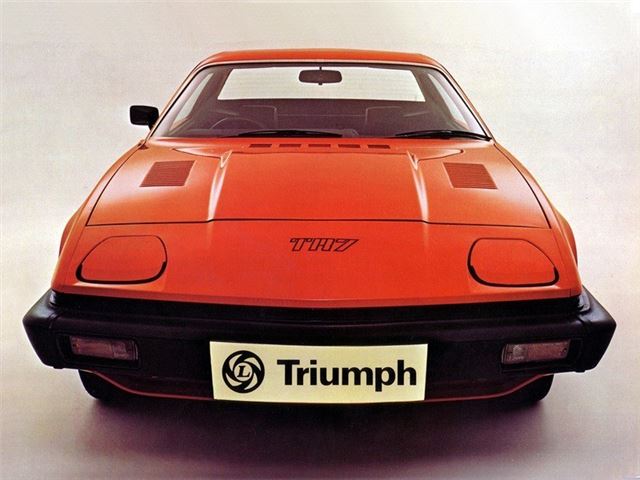 Buying Guide
Good

Like fine wine, the TR7 has just got better and better with age. What looked gawky in 1975, now comes across as bold and daring-to-be-different. And those engine problems from new have long since been ironed out – with off-the-shelf cures readily available. Handling is easily upgraded, especially on the chassis side where uprated bushes and dampers can absolutely transform the TR7's ability to go around corners. As for power – tuning the 2-litre slant-four might not produce scintillating results, but the addition of a Sprint or V8 engine (both of which are popular conversions) add a great deal of fun into the mix.
Bad
Get a bad TR7 and you'll be forever battling rust and 'Prince of Darkness' electrical gremlins.
You'll not trust it when the weather turns bad, either.
Also, the handling suffers terribly if the suspension components aren't in tip-top condition.
A poor one will struggle to be worth what investment you put into it.
Watch
Engine: cylinder heads warp, so take the car for a long test drive and make sure it doesn't get hot or misbehave.
Check for traditional signs of head gasket damage such as mayonnaise under the filler cap.
Bodywork: Screen surrounds are a notorious corrosion weak spot, so closely check for paint and trim issues.
Transmission: Listen for axle whine on the move and check differential oil level if possible. Five-speeder can be notchy when cold, but frees up after a few miles.
Check for automatic gearbox smoothness – but all units basically reliable.
Sills: Inner and outer sills are extremely susceptible to corrosion, so make sure that they have been repaired properly, and not using cheaper cover sills as these will cause issues within a year of being fitted.
Boot: lift the carpet and closely check the spare wheel well. Remove the spare wheel if necessary and make sure there's no trapped water. All drainage holes should be clear.
Suspension: Straightforward and all parts readily available, but a known weak spot are the trailing arm mounting points, which can corrode. Very difficult to check for without a ramp, but an essential inspection point.
Roof: Many Webasto parts are no longer available so make sure sunroof is in good working order.
On convertibles, hoods are readily available and inexpensive, but check condition of all fixings are rear screen.
Electrics: Check all electrical equipment works – switches, relays and wiring are all known to be flaky with age. If they have been fixed, make sure OEM – or better – equipment has been used.
General points: Check paintwork repairs aren't hiding filler; Oil leaks are expected and part and parcel of TR7 ownership; Do the engine and chassis numbers tally up; is the interior in one piece as in many cases, trim is NLA
If the chrome trim looks uneven it could well be that water has got in between the screen and A-post.
Pop-up headlights: Mechanism is basically sound, but the switch or relay can be troublesome, leading to the infamous TR7 wink. Sorting it should be straightforward with off-the-shelf parts.
Upgrades: all of these are desirable, so check when looking - Poly bush suspension kit,Roller top mount bearings for the front struts, Uprated discs and pads, Uprated brake servo, four-pot calipers, Rear disc kit, Remove the damper weights in the bumpers, Remove the viscous fan and replace with an electric one
Back: Driving
Next: Running
Buy a Triumph TR7 from £2,250
Compare classic car insurance quotes and buy online. A friendly service offering access to a range of policies and benefits.

Get a quote