Toyota RAV4 (1994 - 2000)
Last updated 6 November 2019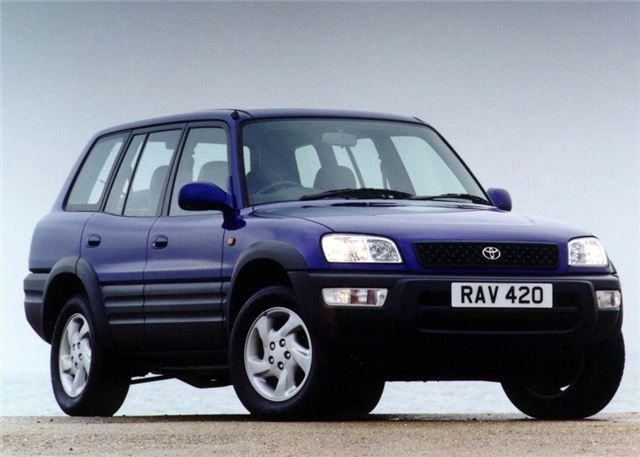 Buying Guide
Good
Haynes manual for UK models 1994 - 2006 www.haynes.co.uk
In June 2001 Toyota was rated by Motor Warranty Direct as Britain's 3rd most claim-free used marque.
BMW, Toyota and Ford jointly suffered the fewest breakdowns attended by German ADAC during 2001.
Top for reliability in Auto Express 2002 survey.
Toyota had fourth lowest average cost in warranty claims for cars up to 10 years old in 2002 Warranty Direct index.
Joint 2nd top make in 2002 'Which?' reliability survey cars 2000 - 2002; 3rd for cars 1997 - 1999.
Toyota generally 10th lowest average warranty repair costs in 2003 Warranty Direct Reliability index (index 74.95 v/s lowest 31.93) www.reliabilityindex.co.uk
1995-1997 had fewest breakdowns, problems and faults; 1998-2000 had fewest problems, average breakdowns and faults, rated 'Worth Considering' in 2003 Which? survey
Bad
Not great in an 'elk avoidance test'. 

Rear seat of five-door slopes forwards and is situated over rear wheels, so not comfortable. 

Suspension wishbones hang too low for serious off-roading. 

Timing belt drives waterpump, so if waterpump fails the belt is thrown off, but fortuantely the 3S-FE engine is non-interference so valves don't hit pistons.
By 2011 most of these first generation RAV4s were worn out.
Watch
Bent suspension wishbones. 

Uneven tyre wear. 

Don't buy one with silly, over-large wheels and ridiculous running boards. 

Some were independent imports. But now they're all old cars, buy on condition rather than source. 

By 2009, manual transmission bearing failures were becoming increasingly common.
Back: Driving
Compare classic car insurance quotes and buy online. A friendly service offering access to a range of policies and benefits.

Get a quote