Toyota MR2 (2000 - 2006)
Last updated 10 June 2019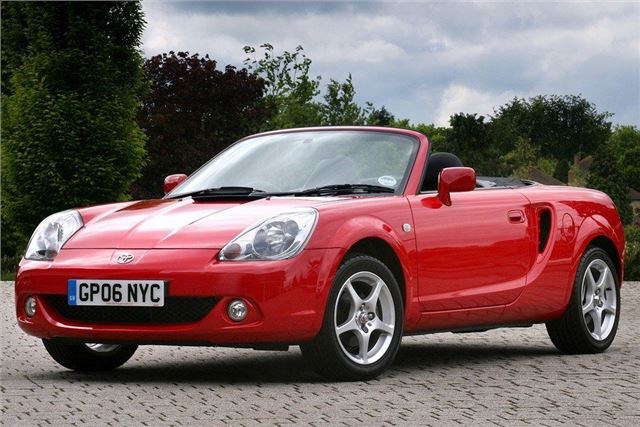 Buying Guide
Good
BMW, Toyota and Ford jointly suffered the fewest breakdowns attended by German ADAC during 2001.
Joint 2nd make in 2002 'Which?' reliability survey cars 2000 - 2002; 3rd for cars 1997 - 1999.
Top roadster, 15th overall in 2003 What Car? J.D. Power Customer Satisfaction Survey.
Toyota generally 10th lowest average warranty repair costs in 2003 Warranty Direct Reliability index (index 74.95 v/s lowest 31.93) www.reliabilityindex.co.uk
In 2014 you could pick up a nice early one with a hardtop for £1,500, but by 2015 good, late 2006 TF300s were fetching £6,000+.
Bad
Hardly any luggage space at all: just two small compartments behind the seats and a bin containing the spacesaver spare under the bonnet leaving barely enough space for a briefcase. 

Power steering unnecessary. 

Small and low, so drivers need to be aware that other drivers may not see them. 

Demand initially ensured high used prices, but much more sensible by 2007.
Watch
Imports lack the Thatcham 1 security system. 

If glass rear screen gets broken, the whole hood has to be replaced and Toyota does not help with 'goodwill' over this. 

Complaints of pre-cat in exhaust manifold breaking up and debris being sucked into engine. Caused by "excessive acceleration - deceleration when the engine is cold causing vibration of the manifold and the cat matrix moving in its holding mat, then breaking up. Holding mat improved from October 2001, VIN ...0043748. For older cars, new manifold available and some possibility of goodwill from Toyota towards the cost. More on this at www.mr2roc.org If an early car make sure it has the improved cat converter manifold. VVT-i engines can start to use up to a litre of oil every 600 miles after 40,000 miles.
Can have an oil consumption problem, like 1.8 Celica and contemporary Corollas and Avensis. This was cured by late 2003.
27-5-2013: Rear crossmember that carries the inboard ends of the rear suspension locating bars and rear engine mount is prone to very severe corrosion that lies hidded by a plastic undertray and can pass MoTs for that reason. Photo shows crossmember taken from 2001 car, but similar, though not as severe, corrosion seen on 2006 cars. Replacement costs including dismantluing £1,000+. Not covered under Toota's 12 year body perforation warranty.
10-6-2014: SMT semi-automatic transmission can give trouble. UK Toyota dealer repair can cost £3,800.  Coversions back to manual available from the USA. Some links to threads: http://mr2roc.org/phpBB3/viewtopic.php?f=11&t=33160 ; http://www.monkeywrenchracing.com/extra_info_pages.php?pages_id=33 ; http://www.mr2oc.co.uk/forums/42/148094.html
18-4-2019: Complaint that parking brake greadually loses its effectiveness. 2004 Toyota MR2 owned from new and now at 40,000 miles suffers gradual decrease in efficiency of parking brake every couple of years. Two different Toyota garages have tried several times to fix it (at 2 year intervals) each time with only temporary success. This time, the garage wants to change one of the rear brake calipers, pads etc. Unfortunately, the parking brake cables eventually stretch and it's a 5-hour job to replace them, which involves removing the fuel tank. But it could be that the club has a solution. Worth jointing anyway for club events as well as support. https://www.mr2oc.co.uk/
Recalls
May 2006: Toyota Service Bulletin issued concerning oil consumption problem of 1.8 VVT-I engines built up to July 2005. Affected models are: MR2 ZZT230.
Back: Driving
Buy a Toyota MR2 from £2,895