Toyota MR2 (1989 - 1999)
Last updated 6 October 2013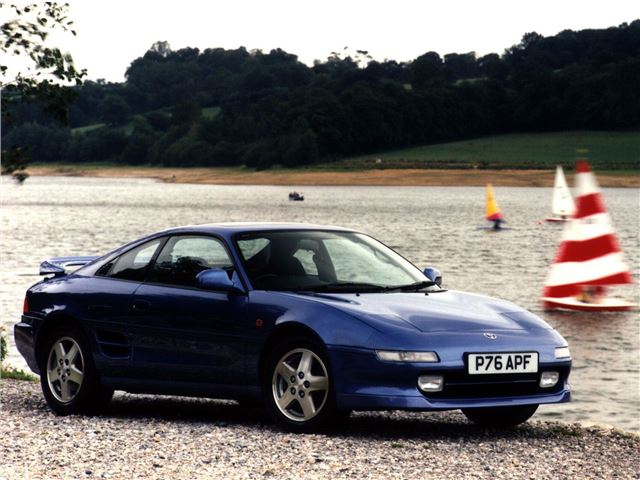 Buying Guide
Good
Bigger, much more powerful car than the original. Moved into a different league.
Base model had just 119 bhp, but 'GT' had 158 bhp.
Improved from March 1992 with bigger 15in alloys, better suspension, Yokohama tyres.
The real improvements came in March 1994 with better suspension, ABS and power boosted to 174 bhp.
Ex Japanese market MR2 Turbo imports with 225bhp plus seen at UK auction for as little as £3000.
March 1994-August 1996 is the model to have.
In June 2001 Toyota was rated by Motor Warranty Direct as Britain's 3rd most claim-free used marque. BMW, Toyota and Ford jointly suffered the fewest breakdowns attended by German ADAC during 2001. Toyota had fourth lowest average cost in warranty claims for cars up to 10 years old in 2002 Warranty Direct index.
Joint second top make in 2002 'Which?' reliability survey cars 2000 - 2002; 3rd for cars 1997 - 1999. Toyota generally 10th lowest average warranty repair costs in 2003 Warranty Direct Reliability index (index 74.95 v/s lowest 31.93) Link:- www.reliabilityindex.co.uk
Bad
A much more 'lardy' car than the original: 300kg heavier at 1275kg.
1990-'92 models had a reputation for swapping ends, especially in the wet.
1992-'94 variable rate power steering can be a liability on a mid-engined car and power catalysed down to 154 bhp.
After a 1994 boost, power was cut back to 168 bhp from August 1996.
New, cheaper lightweight replacement arrived in 1999 in spirit of MX5 and original MR2.
Watch
Grey Japanese second-hand imports may not pass UK emissions tests. (Turbos are all grey imports).
Front suspension geometry easy to knock out of alignment by potholes or road humps, leading to heavy front tyre wear. Rear suspension adjustment rusts up and seizes. Check all wheels for uneven tyre wear which could be due to accident damage, falling off the road, potholing, kerbing or may simply be misadjusted alignment.
Full service history essential - either Toyota or Japanese performance car specialist.
Needs six-month services with fully synthetic oil.
Make sure front brakes aren't snatching (needs new front-to-rear compensator, but may need new discs as well). Feel the state of the discs through the wheels and budget accordingly.
Timing belt needs to be replaced every 30,000 - 40,000 miles and belt-driven water pump and tensioners at least every 70,000 - 80,000 miles, but belt replacement is a comparatively cheap £190 (engine does not have to come out).
Back: Introduction
Next: Running
Buy a Toyota MR2 from £14,995
Compare classic car insurance quotes and buy online. A friendly service offering access to a range of policies and benefits.

Get a quote