Suzuki SJ-Series, Santana and Samurai (1981 - 1997)
Last updated 6 November 2013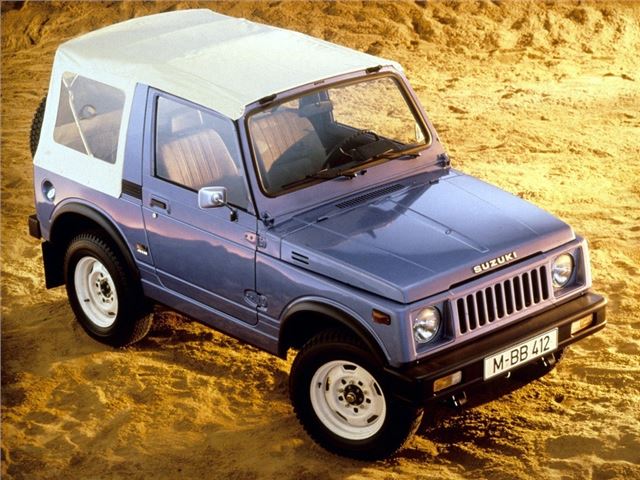 Buying Guide
Good
The smallest, cheapest off-roader you could buy in the UK.
Relatively light weight of 850kg helps in snow and 'soft' conditions.
970cc engine puts out 45bhp; 1,324cc has a stronger 64bhp and also available with longer wheelbase.
Continued to be built by Ssangyong in South Korea at least up to 2000, but with two wheel drive and high-top hard-top.
Bad
Santanas are Spanish built; SJs are Japanese; Katanas are built by Ssangyong in South Korea for Indonesia and called Jimnys.
410/413 Superseded by Japanese 'Jimny' late in 1998. Can suffer cracked cylinder heads after 50,000 miles (look for emulsified oil under oil filler). Not at all nice to drive on the road, but okay as a holiday villa runabout or as an off-road working car where small size is important. Surprisingly thirsty for a small engine.
From www.dogandlemon.com
The old model Suzuki Jimny, which is also sold as the Suzuki SJ, Suzuki Samurai, Sierra and Holden Drover. American Consumer Reports, which blew the whistle on a rollover problem with this vehicle – and was then sued by Suzuki USA, had the following to say: "In the case Malautea v. Suzuki, the U.S. Court of Appeals for the 11th Circuit found that Suzuki had engaged in an 'unrelenting campaign to obfuscate the truth.' Suzuki deliberately withheld from the court 'damaging evidence regarding General Motors' refusal to market the Samurai in the United States.'...Suzuki's own internal documents prove the company knew of the Samurai's rollover problem, but marketed the car anyway. A Suzuki memorandum dated July 14, 1985 stated: 'It is imperative that we develop a crisis plan that will primarily deal with the 'roll' factor. Because of the narrow wheel base, similar to the Jeep, the car is bound to turn over.'" Suzuki settled the Consumer Reports lawsuit out of court.
Watch
Uneven front tyre wear means the tracking's out, so has the front suspension been damaged? Has it been off-roaded (much more likely than Vitara because these are classed as a working vehicle).
Check drivetrain for oil leaks. Make sure it slips easily into four-wheel-drive (transfer boxes have been known to take in water and corrode inside). Listen for gearbox rattles, especially with the clutch disengaged.
Check everywhere for rust, especially the hood mechanism the joints of which can rust up and snap.
Check under matting on cargo floor for rust in the seams.
Take care on corners.
Back: Introduction
Compare classic car insurance quotes and buy online. A friendly service offering access to a range of policies and benefits.

Get a quote