Skoda Octavia (1998 - 2004)
Last updated 12 September 2019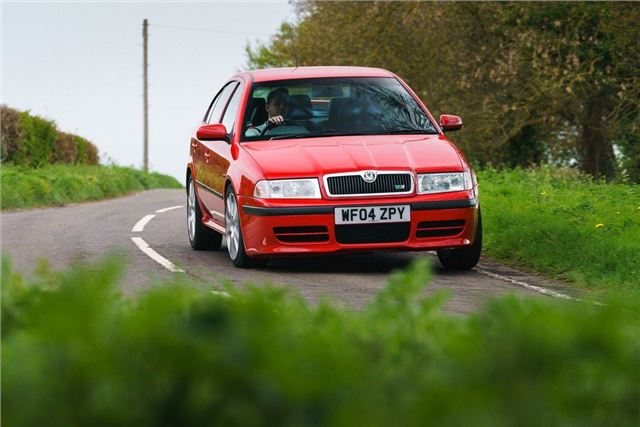 Buying Guide
Good
Decently built.
Owners rate them highly.
Bad
Looks like a Passat with the back wheels in the wrong place. 

Early LHD examples understeered heavily and late models can still be frightening in icy conditions, especially TDI with its heavy, torquey engine. 

180bhp vRS has only a 5-speed, not 6-speed, and not as good to drive as SEAT Leon 20VT.
Watch
Many diesels were taxis and reliably clocked up 200,000 miles. Not guaranteed to continue to be reliable after this so look doe signs of taxi use and clocking.
Plastic water pump impellers on early 1.8 20v engines fail flinging off timing belts. Newer water pumps have metal impellers. 1.8 20v engines can snap their timing belts at 70,000 - 80,000 miles and the extensive damage this causes is not repairable. The car will need a replacement engine. 1.8 20v timing belt drives waterpump and belts are difficult to replace on transverse engines (£500 job). 

All engines need new timing belts, tensioners and on 1.8 20v waterpumps every 4 years or 60,000 miles whichever comes first. TDI waterpumps also prone to failure, but driven by an auxiliary belt so not so much of a disaster. Essential, however, to replace all ancillary belts at the same time as the timing belt because if they break the can interfere with the timing belt at take the timing belt off. 

1.8 20Vs also suffering problems with air mass sensors which cost around £200 to replace. All 1.8 20V turbos built from around August 2001 to October 2002 can suffer from failure of one or more of the four ignition coils, which led to a dispute butween VAG and a supplier and a severe shortage of coils from November 2002 to January 2003. 

Speedo/instrument binnacle failures may be due to a failed brake light fuse. 

One complaint of faulty temperature sender in 110TDI sending wrong message to ECU leading to increased fuelling and poor mpg. 

TDI 110s could also suffer same power loss and ECU problem as Golf Mk IV TDI 110. VAG acknowledges a fault with the ECU (038 906 018 BM) and specifies an upgraded unit (038 906 018 GQ) at £695.00 + VAT. According to VAG technical, this problem will eventually occur with all ECUs with BM number, so a second hand part may only be only a short term cure. 

Failed Dump Valves - symptom is normally a funny squeak on gear change rather than normal air sound, plus flat spots. 

Intermittent power loss on TDI 90s and 110s may be due to one of the following:- sticking turbo due to dirty oil; dirty or faulty mass airflow sensor; exhaust gas recircularion solenoid valve sticking open; wastegate valve actuator rod sticking; faulty throttle switches; faulty temperature sensor; loose or leaking brake servo pipe or turbo boost pipe from fuel pump to turbo; faulty ECU. 

1.4 16v and 1.6 16v engines have plastic timing belt tensioner rollers which can shatter after about 40,000 miles. These are now failing regularly, though fortunately the belts are rarely flung off when this happens. Manual transmissions of 1.4s and 1.6s prone to failure due to corrosion and cracking of the casing. 

If red warning light comes on in very cold weather on start up to say Engine Overheating, it isn't. It's a faulty sensor. Car needs new expansion tank at £9 + 10 minutes to fit. Switching engine off and then on sometimes cures it. 

Rear windows can fall off their rails into the doors. 

1.4 16v and 1.6 16v engines have plastic timing belt tensioner rollers which can shatter after about 40,000 miles. These are now failing regularly, though fortunately the belts are rarely flung off when this happens. Can be unlucky. 

Reports of heavy oil consumption of old 115PS 2.0 litre 8v petrol engine that replaced the 125PS 1.8 in 1999. 

Rear screenwash pipes pop off filling spare wheel well with washer fluid. Skoda dealers often want £100 to fix. 

This is one reader's experience of a 2000X 2.0 auto bought in 2003:- 

Brake light switch failed locking autobox in park. 
Rear wheel bearing failed. 
Lambda probe failed. 
Radiator header tank level sensor misreading. 
Air mass meter failed. 
Misfire diagnosed as failing HT leads.
VAG diesels will run to starship mileages if you buy the right one and maintain it properly. Doing both of these things is not as easy as it might seem.
The pre-PD diesels were reliable but are all getting too old now. The economy was excellent but they lack the power of the PD units.
The best PD units are mid-period 1.9s with solenoid injectors. Avoid the later piezo injector engines and avoid the 2.0 PD at all costs because of the likelihood of oil pump drive failure - especially in N-S installations. The earliest PD engines had a rather complex and flaky fuel cooling system which is also better avoided.
The best vintage PD is probably an '04 1.9 130 (AWX) - the 150 HP units are not as reliable and don't actually go much better.
All PD engines require oil to VAG spec. 505.01 (fixed servicing) or 507.00 (variable). Camshaft wear will be the result of variations from this spec. - although the fully-synth 507.00 is fine for both, but a little more expensive. There is a general consensus, which I share, that variable servicing is not good for engine wear unless operated under the most favourable conditions - which few are.
I change the 507.00 oil in my AWX every 7k miles. So far, very good.
The latest CR engines run very nicely and are smoother than the PDs (but without the "shove") but I am beginning to hear of far too many (piezo again) injector failures and HP pump failures. Best avoided for now unless under warranty. The beauty of the PD system is that the highly stressed pump plunger followers are oil rather than fuel lubricated. It makes a considerable difference.
Recalls
2000: LXi models built May '98 to Jan '99: incorrect ABS servo fitted could lead to brakes locking up.
25/6/2001: Fuel tank may leak. Check for leaks and replace tank where necessary.
2001: On Octavia 4x4s built up to March 2000, the bottom rear hub carrier ball joint can corrode and seize, leading to the lower suspension arms snapping at the hub ends.
10/5/2002: 2,995 Octavias recalled because electrical fault in ABS ECU could cause overheating, possibly even leading to fire damage. 31/3/2003: VINS TMB***1U*32665031 to TNB***1U*32675256 and TNB***1U*38665036 to TMB***1U*38667146 rar window wiper may loosen during high speed driving causing it to break off. Replace wiper arm and blace. 26/3/2003: VINS TMB***1U*X2148718 to TMB***1U*X22227663 and TMB***1UY2285279 to TMB***1UY2294866: Due to a manufacturing fault, tension cracks may occur on the vacuum pipe to the brake servo in the area of the pipe connections. If a vacuum pipe leaks the brake servo loses its function requiring a lot more force on the brake pedal to stop. Check vacuum pipes and replace if necessary.
Back: Model Timeline