Skoda Felicia (1995 - 2000)
Last updated 15 October 2019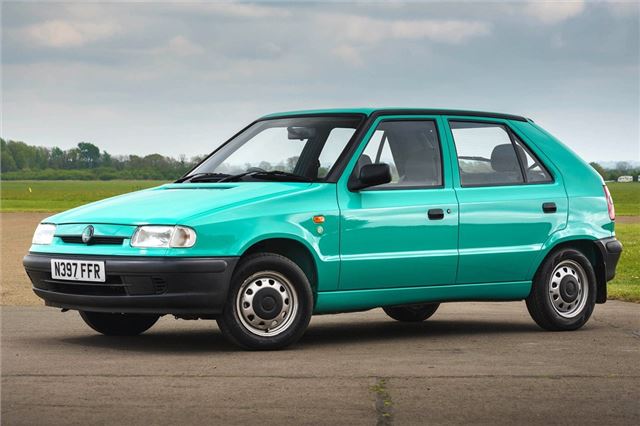 Model Timeline
Looks like a Favorit and shares many Favorit bits but brought up to date with some Polo parts.
PAS available with 1.6 petrol and 1.9 diesel engines.
Sound, practical cars. Well built. Decent paint quality, good shut lines. Strangely, the high quality trim and plastics seem as if they're deliberately made to look cheaper than those of Polo. 1.3 versions cheap, with alloy block pushrod Skoda engines.
Haynes manual available from March 1999.
3-year warranty meant dealer servicing for first three years but dealers friendly and sensibly priced.
An amazing 3rd from top in 2001 'R' reg J.D. Power Customer Satisfaction Survey. Was still 16th from Top in 144 car 2002 JD Power / What Car? Customer Satisfaction Survey of V and W reg cars. Skoda generally lowest average warranty repair costs in 2003 Warranty Direct Reliability index (index 31.93) Link:- www.reliabilityindex.co.uk 1995-1997 petrol and diesel models average for breakdowns, problems and faults in 2003 Which survey.
August 1995
Felicia pickup (type 796, 797) went into production in August 1995. This offered a loading area of 2015 cm2 and a higher carrying weight (605 kg), due to stiffer springs and a solid rear axle.
Skoda also built Felicia Fun model, with a sliding cab bulkhead that allowed carrying og rear passengers with no roof over their heads.
Skoda Pickup LX; LXi; LX 1,6; LX 1,9 D (type 797); Skoda Felicia Fun (type 796)
Manufacturing period: 1995 – 2001
Number produced: 128,581
Engines: 4-stroke; spark ignition; (1.3; 1.6) or diesel (1.9D); liquid cooling; 4 cylinders in line; OHV (1.3); or OHC (1.6; 1.9D); crosswise in front of the front axle; regulated three-way catalyst (1.3 or 1.6) or oxidizing catalyst (1.9D)
Displacement: 1,289 ccm (1.3); 1,598 ccm (1.6); 1,896 ccm (1.9 D)
Power: 40kW at 5000 rpm (1.3); 50kW at 5500 rpm (1.3i); 55kW at 4500 rpm (1.6); 47kW at 4300 rpm (1.9 D)
Torque: 94 Nm at 3250 rpm (1.3); 100 Nm at 3750 rpm (1.3i); 135 Nm at 3500 rpm (1.6); 124 Nm at 2500 to 3500 rpm (1.9 D)
FUN (type 796) manufactured to 2000; 4,016 cars manufactured; total of 128,581 cars manufactured
Back: Introduction
Next: Buying Guide