Skoda 1100 OHC Spider (1957 - 1962)
Last updated 29 March 2018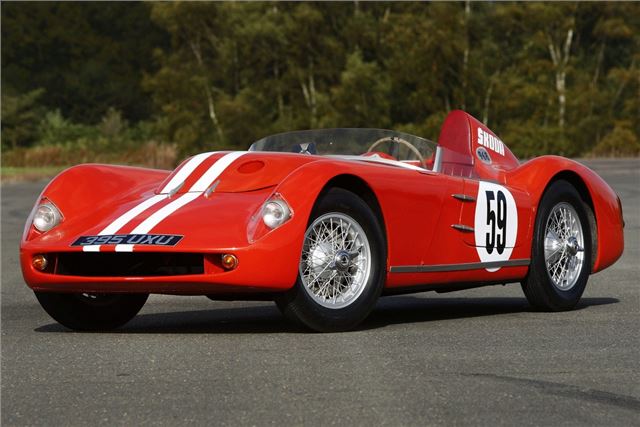 Step over the door, puttwo feet on the driver's seat and clumsly slide down. The car instantly reminds you that you are not the boss of it. Not yet, at least. First gear is instantly refused by the dog-leg crash box, forcing you to select reverse before you can pull away. The clutch is surprisingly progressive and light by racing standards.
But the brakes are brutally unforgiving - especially on a rain-soaked track in the low, single-figure March temperatures. They become nothing more than an on/off switch and until you acclimatise to the carl ocking all four wheels is guaranteed. Thankfully, the near-perfect 50/50 weight distrubtion saves novices like me the embarrassment of a spin on the first lap.
Perhaps a more experienced driver would be able to modulate the brake pedal while double de-clutching and blipping the throttle for a smooth downshift. For a mere mortal like me, it is impossible. And the 5-4-3 shift at the sharp right-hander at the end of the long straight is fluffed. Every. Single. Time.
Ten minutes behind the wheel and I'm exhausted. Back, head, arms, leg aching from the drive - but the tyres and the brakes aren't even warm. The men that drove these cars back in the day fought a battle each time the start flag was dropped.
Nevertheless, the 1100 is a car you'd want on your side come race day. It's almost Lotus-like and feels far faster than its 92bhp suggests. Top speed is 118mph or 124mph, depending on which final drive was fitted. There's no happy ending when you make a mistake at that speed in this car. No one is walking away, helmet in hand, waving to the crowd.
Days later, I can still hear the racket of the brutal 1098cc four-pot buzzing in my brain. It's a noise like no other – almost as if you hear every mechanical part crashing into each in slow motion. Like a gutteral, desperate battle cry.
Of course, I can also feel the kangaroo away from the (missed) apex, punishing my hesitant, uncommitted throttle inputs and sloppy lines.
Back: Model Timeline
Next: Specifications