SEAT Toledo (1999 - 2004)
Last updated 5 April 2019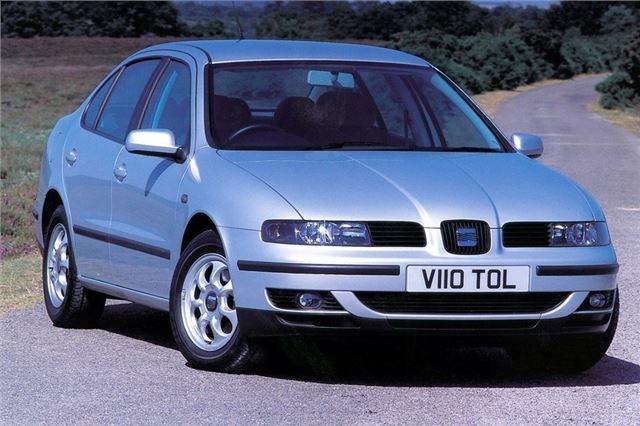 Buying Guide
Good
Joint 3rd top make in 2002 'Which?' reliability survey cars 2000 - 2002.

SEAT self-help group: www.seatcupra.net

SEAT generally 2nd lowest average warranty repair costs in 2003 Warranty Direct Reliability index (index 39.83 v/s lowest 31.93)
SEAT 5th top top of Reliability Index for 2004 combining very average cost of repair of £328.32 with 22.69 failures per 100 Warranty Direct policies www.reliabilityindex.co.uk
Bad
Deep boot, but you have to post your luggage through a narrow slit. 

V5 gives nice, progressive power but lacks the grunt of the old VW VR6. 

Drain holes in door bottoms can get blocked with wax and waterproof door membranes can lift, leading to ingress of water into car. Misfitted pollen filter covers cause leaks into passenger footwell.
Watch
All engines need new timing belts and tensioners every 4 years or 60,000 miles whichever comes first. Plastic timing belt tensioners of 1.4 and 1.6 16v engines now failing regularly, though fortunately the belts are rarely flung off when this happens. 

1.8 20v engines are snapping their timing belts at 70,000 - 80,000 miles and the extensive damage this causes is not repairable. The car will need a replacement engine. 1.8 20v timing belt drives waterpump and belts are difficult to replace on transverse engines. 

1.8 20Vs also suffering problems with air mass sensors which cost around £200 to replace. 

All 1.8 20V turbos built from around August 2001 to October 2002 can suffer from failure of one or more of the four ignition coils, which lead to a dispute butween VAG and a supplier and asevere shortage of coils from November 2002 to January 2003. 

Toledo TDI 110s could also suffer same ECU problem as Golf Mk IV TDI 110. VAG acknowledges a fault with the ECU (038 906 018 BM) and specifies an upgraded unit (038 906 018 GQ) at £695.00 + VAT. According to VAG technical, this problem will eventually occur with all ECUs of this part number, so a second hand part may only be only a short term cure. 

Intermittent power loss on TDI 90s and 110s may be due to one of the following:- sticking turbo due to dirty oil; dirty or faulty mass airflow sensor; exhaust gas recirculation solenoid valve sticking open; wastegate valve actuator rod sticking; faulty throttle switches; faulty temperature sensor; loose or leaking brake servo pipe or turbo boost pipe from fuel pump to turbo; faulty ECU. 

VAG ATE Teves Mk 60 ESP pressure sensor fault has spread to Leons and Toledos. £225 fix from www.sinspeed.co.uk
12-11-2012: Cure for door leaks: Leaks of this nature are a known difficulty with the Toledo and Leon. The cause in my case was not the plastic membrane inside the doors, but the seal between the door and the inner metal skin (which carries the electric winder motor etc.). This seal is a bit like a draught excluder, and over time either loses its elasticity or generally decays to become non watertight. To cure the leak, remove the inner door trim, remove all of the bolts holding the inner skin to the main door frame except those bolts along the top of the inner skin, which should only be loosened. This should enable the bottom of the inner skin to be lifted away from the door frame far enough that an ordinary sealant gun can be used to apply a bead of sealant between the two mating surfaces, and bolting the skin up tight again should cure the leak, but remember also to make sure that the drain holes in the bottom of the door are clear. Removal of the interior trim is tedious.
Recalls
28-2-2001: Build 1/10/2000 - 30/11/2000 Passenger airbag may not inflate correctly due to leak in pressure reservoir of gas generator. Passenger airbags to be replaced (only 11 cars affected). Ibiza, Cordoba, Leon, Toledo recall March 2005: "The brake vacuum pipes may leak due to a production fault. If the pipe leaks, the brake servo loses it's function. Without the servo assistance a lot more force must be used on the pedal. But this will not lead to a total failuire of the braking system." FoC examination and if necessary replacement - about an hour
Back: Model Timeline
Compare classic car insurance quotes and buy online. A friendly service offering access to a range of policies and benefits.

Get a quote