Saab 9-3 (1998 - 2002)
Last updated 18 October 2017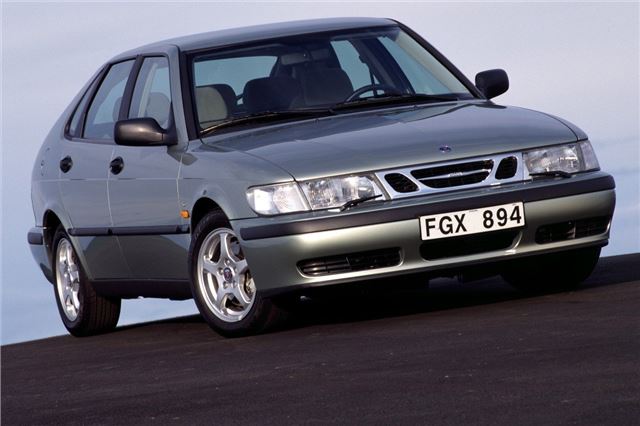 Buying Guide
Good
Steering, handling and roadholding all improved over previous same-shape 900. Even better with 17in wheels and Michelin Pilot tyres.
115PS 2.2 litre direct injected diesel particularly good to drive - better than 2.0 litre petrol. 225PS 2.3 litre HOT Viggen from March 1999.
Very impressive safety features include a full set of five 3-point belts, two airbags and excellent side-impact protection.
Clever anti-whiplash head restraints. Rear boot sill has been lowered to make it more like the old 900 and you can used the rear bumper to sit on.
Convertible has a heated glass rear window.
Joint 3rd top make in 2002 'Which?' reliability survey cars 2000 - 2002.
Average for breakdowns, problems and faults in 2003 Which survey.
Most UK SAAB Specialists listed by postcode  www.the-saab-specialist-register.com
Four-Star NCAP crash safety rating due to excellent side impact protection but much less satisfactory front offset impact protection due to bulkhead inherited from 900.
Bad
Scuttle-shake of popular convertible can still set your teeth rattling. Turbo a bit vicious. Diesel needs to be kept on the boil (above 1,900 rpm) so not too good for caravan towing. Some GM 2.2 litre DI diesels use a lot of engine oil. 

Only 85% breakdown free in 2003 Which survey. SAAB had above average warranty repair costs in 2003 Warranty Direct Reliability index (index 122.61 v/s lowest 31.93) www.reliabilityindex.co.uk
Watch
Still has bulkhead mounted steering rack like Cavalier. By 2006 cracked bulkheads from the strain of the rack working against the subframe mounted wheels had become a serious problem. Listen for steering creaks and look for cracks around steering rack bulkhead mounting points, a £700 job to repair. Abbot Racing of Spinnels Farm, Manningtree (tel: 01255 870636) had a means of mounting the rack more rigidly, and also replacing the soft rubber suspension bushes which not only solves the problem but makes both Cavaliers and SAAB 900s/9-3s steer and handle much better. http://www.abbottracing.net/product.php?id_product=429 Rack brace also supplied and fitted by www.twostroke.co.uk for £275. 

Timing chains of 4-cylinder Saab engines need clean oil or can give problems at around 60,000 miles. Clean oil also essential for turbo life. Turbos best run on fully synthetic oil once run-in. Reports of a sludge problem that lead SAAB to issue an 8 year engine warranty in early 2005. Petrol engined SAABs with 4 cylinder SAAB engines prone to sludging up of the oil feed to the balancer shaft sprocket. 

Further rumour of oil sump pick up becoming blocked from carbon from the engine as the oil gets cooked by the exhaust being too close to the sump. This is fixed 'in service' by SAAB dealers, but costs £150 as a separate job. This can be the result of the service garage not using fully synthetic oil and siphoning rather than draining out the old oil, leaving sludge in the sump. Oil sludge then develops, burns off, glazes the cylinders/pistons and blocks the sump and oilways with with sludge. The oil light does not come on until complete lack of oil pressure occurs, which is usually too late. 

Essential to change the oil and filter every 5k miles, to flush the old oil, and to drain from the sump plug. Do not siphon the old oil out or you will leave sludge in the sump. 

Poor starting and cutting out after starting of 2.2DI 16v caused by airleaks through fuel injector seals, also leading to fuel oil leaking into sump oil. Turbo intercooler pipe on 2.2DI prone to failure. Spate of air conditioning compressor failures on 2001/2002 models led SAAB to cut the replacement cost from £700 to £180. Self-help group www.saabscene.co.uk System pipe looks like towing eye, so be careful not to tow by it. 

The directional control for the heater often breaks, making it impossible to alter the direction of hot or cold air within the vehicle. The shaft for the control knob is made of plastic and is a telescopic design. It often breaks due to repeated flexing of the hinged plastic ends. It is easy to remove the shaft and replace it, working from the drivers side of the vehicle. Take off the the side panel from the centre console. 
A new shaft can be sourced via the internet for about £16.
About 18 months ago I emailed you for some car buying advice. I was running an immaculate 2001 1.3 Ford Fiesta Flight, but due to the large amount of motorway driving I had to do I was looking to change car. I had been offered a 1999 Saab 9-3 2.0i (normally aspirated) for free by a family member in good condition with full service history. You advised me not to take the Saab and to instead buy a Fiesta or Focus with the more powerful 1.4 or 1.6 litre engines. Because I didn't want to turn down the generous gesture of the family member, who was really happy to help me out, I didn't follow your advice and took the Saab. 18 months on, I thought I'd let you know that your advice was spot on - here's what the Saab has cost to keep on the road in the last 15 months: Fractured bulkhead repair: £500 (I got the repair done at a discounted rate as a relation runs a body repair centre). Replacement shock absorbers (secondhand): £200. Replacement crankshaft sensor: £110. Replacement driveshaft: £300.Replacement fan switch: £50 (couldn't keep the windscreen clear without it). This list excludes normal items subject to wear and tear, such as two new exhaust sections and two new tyres totalling approximately £300. I estimate the car to be worth approximately £900 at best, despite otherwise being in very good condition (good rust-free bodywork and tidy interior). The car drives well on the motorway and can average around 35 mpg but in general the handling is poor and not very enjoyable to drive (I normally enjoy driving).
17-7-2011: Poor performance of 2.2 diesel can be due to faulty solenoid in EGR valve. 
Recalls
2000: 9-3 models built August '97 to July '99: front seats may move during heavy braking.
2001: TSB to replace ECU on older 9-3 Viggen models free of charge.
8-10-2001: 1,625 9-3s built 1/8/2001 to 31/8/2001 recalled because nuts securing track rod ends to steering swivel members may not have been sufficiently tightened, resulting in track rod end becoming loose. Nuts to be tightened to correcxt torque.
25-6-2002: VINs 22038749 to 27013166 (actually only 357 cars) recalled because a batch of brake calliper pistons may release hydrogen gas into the brake fluid. Callipers to be replaced.
11-7-2002: 569 SAAB Towbar kits recalled because tow ball can prematurely detach itself from rest of assembly. All towbars to be modified, then replaced at a later date once supplies are available.
10-1-2003: Repeat towbar recall.
Back: Model Timeline