Rover 25 (1999 - 2005)
Last updated 13 July 2018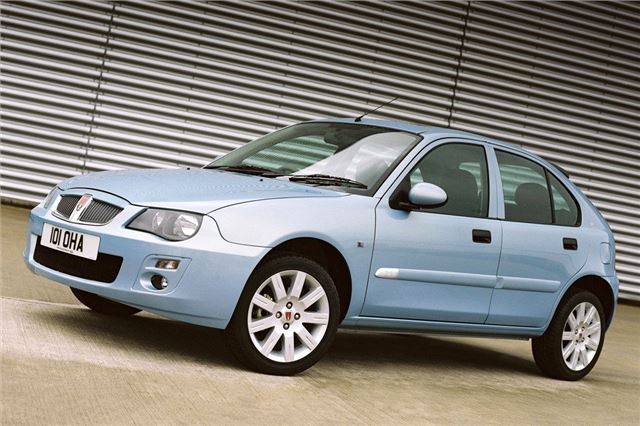 Model Timeline
Good looking, successfully re-thought Rover 200, aimed at the younger market, now with faster, meatier steering, more sporty suspension, much more sensible pricing and, importantly, a three-year warranty.
Prices cut to from £8,495 for 84bhp 1.4i with three years servicing included as from October 2000. Basic 1.1i announced from April 2001 at £7,995 on the road.
New 'Steptronic' ECVT has more controlled take-off than old 200 CVT and works really well in town or out.
150bhp Gti replaces VI as top of the range at a reasonable £13,495.
103 bhp 1.4Si is now as much fun to drive as a Fiesta Zetec or Focus with an excellent set of gear ratios giving 60 mph plus in 2nd.
Ventilation system allows cool face/warm feet.
Ex-rental one year old 25 1.6iL 5-doors with alloys and sunroofs were bargains at around £7,500.
January 2001
Launch of Impression specials. 84bhp 1.4 litre 25 Impression 3-door has drivers airbag, stereo radio cassette, anti-theft alarm and immobiliser, power steering, height adjustable steering wheel, tinted glass, 15 inch Octet alloy wheels and remote central locking for £8,675 on the road. (5-door £9,175).
Slightly up spec is the 25 1.4 Impression S which also has air-conditioning, electric front windows and a CD tuner (3-dr: £9,595; 5-dr £10,095).
Timing belts of L Series diesels apparently do last the scheduled 5 years or 84,000 miles.
July 2002
Spirit and Spirit S specials from July 2002 (Spirit S have a/c).
March 2003
Van version from March 2003 called Rover CDV with 84ps petrol or 101ps diesel: OTR prices £8,995 and £10,995. Advantages of reclaimable VAT for business users and, so far, BIK tax on just £500 pa.
LPG versions of 1.4 litre and 1.6 litre 25s priced at £2,195 and subject to a 50% - 60% Powershift grant. Facelift late 2003.

11-01-2005: Upgraded specs for 2005, including wood and leather trim and alloy wheels from 1.4GLi up. GSi gets atandard a/c.

1.4 (84Ps) GLi 3-dr £8,995
1.4 (103Ps) GSi 3-dr £9,995
2.0TD GLi £10,795
2.0TD GSi £11,795
1.4 (84Ps) GLi 5-dr £9,595
1.4 (103Ps) GSi 5-dr £10,545
1.6 GXi 5-dr £11,995
2.0TD GLi 5-dr £11,345
2.0TD GSi £12,345
Back: Introduction
Next: Buying Guide