Rover 600 (1993 - 1999)
Last updated 13 August 2018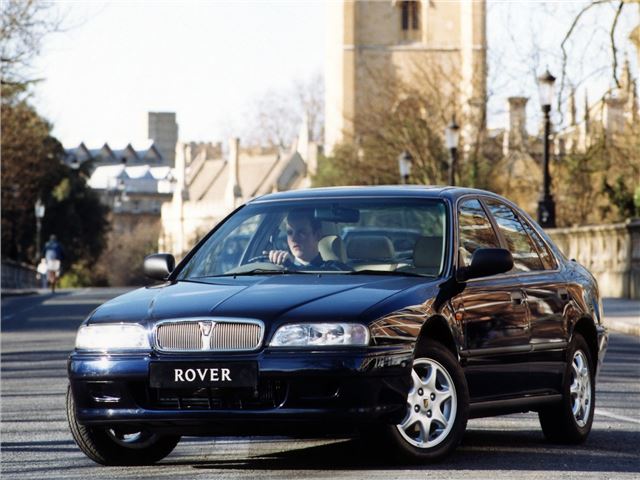 Buying Guide
Good
The most reliable mid 1990s Rover (really a Honda Accord). Nice-looking car. Wood, leather and stainless steel kickplate image.
156 bhp 2.3 litre Honda engine by far the best. Chassis also greatly improved on 2.3s.
All manuals have good gearchanges and 129 bhp Honda 2.0 litre engines are smooth and economical. 113 bhp 1.8 is an 1,850cc multipoint injected Honda engine, not a Rover 'K'. Automatics by Honda. Good metallic paint colours, such as Nightfire Red, Caribbean Blue. Generally quite a good, cheap second-hand buy.
Timing belts of L Series diesels apparently do last the scheduled 5 years or 84,000 miles.
Very Low 2 out of 9 point death rate from accidents in this model.
Rovers generally had slightly below average warranty repair costs in 2003 Warranty Direct Reliability index (index 93.69 v/s lowest 31.93), just beating Nissan. Link:- www.reliabilityindex.co.uk 1995-1997 had fewest breakdowns, avaeage for problems and faults; 1997-1998 average for breakdowns, problems and faults in 2003 Which survey.
Bad
Understeery handling, over-light steering on all but 2.3.
Ride quality not up to luxurious image.
Average performance in NCAP crash tests.
Production ended in 1999, but was still on Glass's Guide's new car price lists in Summer 2000 so watch out for late registrations.
Watch
Check everything electrical (windows, roof, mirrors, seats, etc.). Rear wings rot out along bottom edge above bumper. And replacements are hard to obtain. This is a big panel in short supply, so the problem is very expensive to remedy.
Will run to high mileages (150k plus) so might be clocked. A 50,000-miler should not have excessive paint and windscreen chips, front number plate should be original.
Avoid the 'Ti' petrol turbo model as was plagued with oil seal problems. 620Ti Turbo with Rover 'T' Series engines prone to blow gaskets.
Ignition igniter on Honda engines can fail and is expensive to replace.
Rover direct-injected 'T' Series diesels okay, but only gain about 7 mpg on the petrol 2.0 litre.
Exhaust rear boxes blow on low-mileage 'short-run' cars. A 'V' or 'W' reg will have been sitting around for months before it was registered. Check for emulsified oil under the oil filler caps of 2.3i engines as this could indicate a cracked cylinder head which is £2k to replace.
Roy Thompson's tips for windscreen washer bottle and motor/pump removal:
Haynes Repair Manual gives quite a major strip down to do this job but it is not all necessary.
1.Jack up NSF of car, support car, remove wheel and plastic wheel arch liner.
2. Remove recessed blank on NSF 'bumper' or fog light, if fitted. Drain the bottle of fluid.
3. Unbolt filler tube and gently pull extension tube out of bottle – heating with warm water helps.
4. There are three 10mm bolts holding the bottle, the forward bolt is awkward but can be moved by going through the opening for the fog lamp – hand in and feel for the head of the bolt. Use a 10mm small socket set – it can be done! The other two bolts can be removed from the wheel arch area.
5. Detach bottle. Do what is necessary but, before refitting, modify the lugs of the bottle. See the diagram attached with this letter.
6. Fit the top and forward bolts first – with washers – then slot bottle in to position under the bolts. Tighten down.
On the 623i and 620i an intermittent fault that causes the engine to cut out may be nothing more than a failed ignition amplifier. A replacement part costs £50.
Useful information if the AIRBAG LIGHT comes on. Reader had a 1999 Rover 620 GSI automatic. The car is in good condition and properly maintained. He left the ignition on for several hours and, following a jump-start from a big battery pack, the SRS (airbag) light came on. He was in the Midlands, out of area for airbagman But got the problem fixed for £35 by Hammonds Automotive at Lutterworth. The car was manufactured as Honda was departing from Rover. The airbag circuit is by Honda. Other circuits are not by Honda. Once the two separate circuits were bridged to each other, a simple re coding was possible.
Back: Model Timeline