Rover 200 Coupe (1992 - 1998)
Last updated 21 September 2015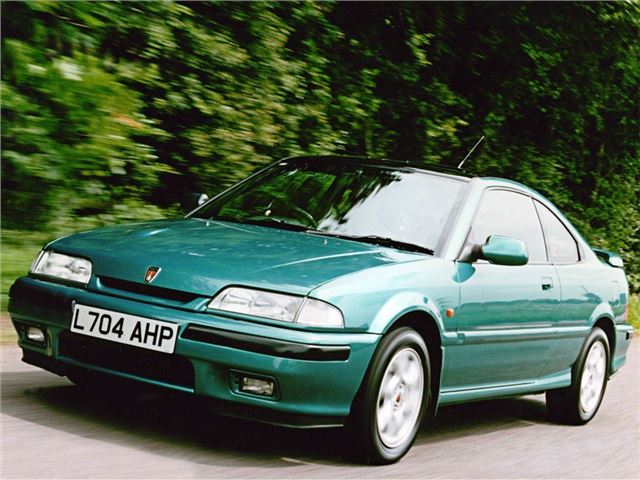 Buying Guide
Good
Product of Honda/Rover marriage and first to use 'K' series modular engines (really a Honda Concerto).
English 'feelgood' factor from stainless steel kick-plates, bits of wood fillet in the dash and doors. Honda 1.6 engine is the best engine, often wedded to smooth Honda autobox.
From July 1997, 400 'Tourer' estate could be had with 109 bhp 1.6 K' Series engine and CVT transmission or 143 bhp 1.8 litre VVC 'K' Series engine and manual box.
Bad
Gearbox/clutch problems can occur relatively early.
220s seem to develop all sorts of problems.
Turbos need specialist attention.
Distributor ignition igniter of Honda 1.6 can fail at about 50,000 miles and might lead to catalytic converter damage.
Rover 'K' Series modular engines not as reliable.
Cylinder head problems not uncommon and stretch bolts can stretch.
Rover 2.0 litre M16 engine least reliable; later T16 from 'K' reg on (badged 'ROVER' on cam cover) more reliable, but even T16 apt to coke up its valves if run on cheap petrol with inadequate detergent content.
Honda-engined 216 can prove very expensive to service and repair. High incidence of ABS failure on cars so fitted.
Another problem is a leaking gearbox input shaft oil seal. This is symptomised by oil leaks and slipping clutch (due to oil contamination). Cause: input shaft bearing of gearbox worn leading to excessive movement on the seal. Difficult to source secondhand gearbox.
Head gasket failure common because very low coolant capacity of engine means small leaks rapidly lead to overheating. Weakest point is water heated inlet manifold gasket.
1.8 K Series head gasket failures website link www.shame.4mg.com
Many trim parts not being made and consequently unavailable. Misfires commonly caused by failed resistor in rotor arm or by water ingress to coil as well as faulty ECU.
15th from bottom for reliabilty in Auto Express 2002 reader survey of 100 models. Drained batteried may be due to a faulty boot light switch.
Watch
Premature clutch wear. Noisy gearboxes. Clonking suspension. Cooling system leaks.
Hidden rust around windscreen. Visible rust at top of hatch and around hinges.
Coolant leaks from corroded coolant rail at back of engine (coolant should be changed every 2-3 years). Look under oil cap for mayonnaise - sure sign of distorted or cracked cylinder head.
Excessive oil consumption.
Make sure cambelt has been changed.
Allow £160 for new distributor ignition igniter for Honda 1.6.
Front anti-roll bar drop links rattle, but cheap to replace.
Clonks from rear could be trailing arm bushes which are £200 a side to replace, or one of the roof support bars come unstuck.
Rear silencer box rots inside out quickly.
If fitted with ABS, the pump may fail if the brake fluid has not been changed often enough.
A smell of petrol may indicate a rusted and leaking petrol tank - especially on 'N' reg cars.
If car has ABS, make sure the warning light goes on and off as per the handbook.
On cars fittend with PSA 1.8 and 1.9 diesel engines a mild steel pipe from the radiator to the pulley end of the engine starts to corrode from the outside in and begin to weep coolant. Eventually it fractures and dumps the coolant. Best replaces with a fabricated copper pipe that will not rust.
If has ABS, fuse is on the ABS ECU inside the car and easily dislodged by clothing causing dash to show ABS faulkt warning.
5-1-2012: If the ignition igniter of the 1.6 Honda engine fails, much easier to get a replacement via Honda.
Back: Introduction
Compare classic car insurance quotes and buy online. A friendly service offering access to a range of policies and benefits.

Get a quote