Riley Pathfinder and Two-point-Six (1953 - 1959)
Last updated 22 December 2015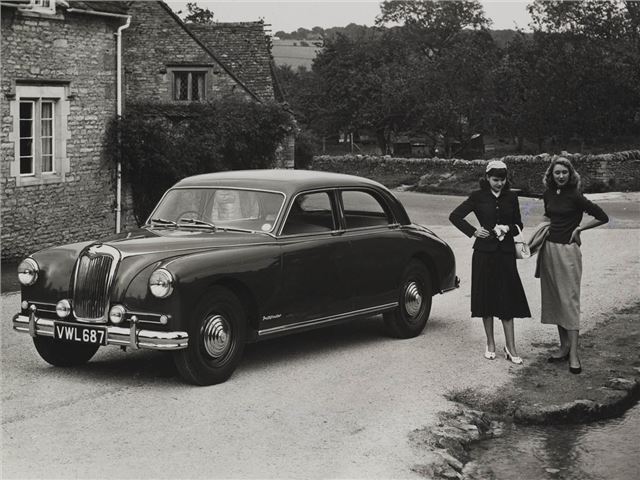 Running a Pathfinder
Owner's view, by Dave Rowlands
Few cars have had such an undeservedly bad reputation over the years as the Riley Pathfinder and even now there are all sorts of stupid yarns and inventions about it from people who have never driven one.
I have used a Pathfinder as my everyday transport for more than 30 years, so I do know what I'm talking about. Fortunately, the stupid prejudice against the car has kept the price down, despite its scarcity today.
It is, in fact, a very fine car and the early production problems were sorted by mid-1954.  It is fast, powerful, roomy, comfortable, easy to handle and maintain. Arguably its best feature is the 'ride' which is adept at smoothing out poor road surfaces. The main drawback is its fuel consumption, 18 to 20mpg at best, though overdrive can push this up to 25mpg on trips.
There are four phases of development: early 1953-54 models have more chrome embellishments and no quarter lights in the front doors; they have the Morris Commercial gearbox (right-hand shift), torsion bar front suspension and independent coil sprung rear suspension.
The 1954-55 (partic the 1955 from October 1954) model still has chrome embellishments (but less so) and the same gearbox, axle and suspension.
Many owners reckon that this is the best version, though others prefer the 1956 model (from October 1955) which has a painted coachline, hydraulic clutch, the BMC 'C-type' gearbox and rear axle, the right-hand gear change and coil sprung rear suspension were retained, these cars can (from January 1956) be fitted with overdrive.
The final version (only 100 cars) went out with the Wolseley 6/90 Series II chassis, now fitted with semi-elliptic leaf springs at the rear. A few of the 1956-57 cars have Austin Westminster or Austin Healey gearboxes instead to the 'C-type.'
Typically, 10 years of motoring (1991 – 2000) in a 1956 model, cost me £560pa, including purchase, insurance, all maintenance and road tax (where applicable) but excluding petrol. It never failed once in those 10 years – about 44,000 miles driving, and was 36 to 46 years old at the time.
It should be noted that the early problems with the rear suspension, were principally attributable to the company, (John Thompsons) who made the chassis frame. A special steel jig had been specified and paid for by BMC, however, Thompsons were found to be using a timber trestle for the welded assembly of the frame instead.
Back: Introduction
Next: Specifications
Compare classic car insurance quotes and buy online. A friendly service offering access to a range of policies and benefits.

Get a quote