Renault Twingo (1993 - 2007)
Last updated 9 December 2013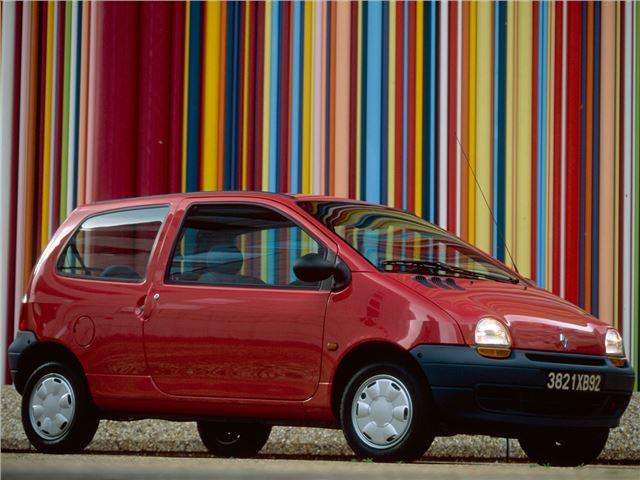 Model Timeline
March 1989
Renault Twingo project begins
Renault asked project director Yves Dubreil to come up with a small car that was compact, practical, economical and comfortable – but not a direct rival to its big sister, the upcoming Clio. Twingo's conception was dictated by the 'design to cost' philosophy and the team's mission was to propose a compact car, with pioneering, attractive styling at a reasonable price. To achieve that, the only solution was to take a completely different approach with the aim of making life easier... Strip out the superfluous and replace it with unique innovations such as the sliding rear seat.
March 1993
Renault Twingo goes on sale
Commercial launch of Twingo, following a preview several months earlier at the Paris motor show. Launched with only one trim level, and four colours, coral red, indian yellow, coriander green and overseas blue, at a price of 55,000FF, or around £6000. Right-hand drive production initially promised, but quietly dropped.
January 1994
Twingo proves its durability
A Frenchman covered 240,000km in a Twingo across the harsh Australian outback, demonstrating the reliability of this car whose talents were not restricted merely to city motoring. At the end of the journey, the car was painted by an Aboriginal artist.
June 1994
Range options widened
New colours introduced and minor interior changes.
October 1994
Twingo Easy added to the range
Launch of Twingo Easy equipped with a manual gearbox but no clutch pedal.
January 1996
First Twingo special edition revealed
Launch of the limited-edition Twingo 'Benetton' and Twingo'Matic versions, fitted with an automatic three-speed gearbox. Moreover, the engine was boosted by 5hp to reach 60hp.
July 1996
New engine added to the range
New 1149cc engine from the Clio replaced the previous engine, which was used in the Renault 5. Also, various improvements made including the addition of a third brake light.
July 1998
Twingo facelifted
First major restyling of Twingo with upgrades to the chassis, seats, dashboard, lights and front bumper. Introduction of the limited-edition 'Elite' version. Primary safety much improved.
October 1998
New top model revealed
Launch of the top-of-the-range 'Initiale Paris' version.
September 2000
Second facelift for the Twingo
More styling tweaks for the Twingo, with larger wheels and some revised interior parts.
December 2000
New engine added to the range
Launch of the 1.2-litre 16V, 75hp powerplant first seen in the Clio.
April 2001
New transmission added
A new semi-automatic gearbox, called Quickshift, was fitted to the range.
September 2002
More tweaks
Further revisions to the range, with new interior trim and wheel covers fitted to freshen up Renault's oldest car.
September 2004
Final set of updates for the Renault Twingo I
The third revision to the range — the Renault logo is fitted to bootlid, as it is across the range, new side rubbing strips fitted, making it more Paris-friendly, and new colours launched.
January 2005
Twingo Kiss Cool launched
Appearance of the 'Kiss Cool' limited-edition.
June 2007
French production of the Twingo I ends
Production of the last Twingo 1 in Europe following some 2,075,300 sales over a career that lasted 14 years – an exceptional lifespan by car industry standards.
January 2012
The final Twingo I rolls off the line in Colombia
Twingo continued to be manufactured in Colombia until 2012. Between 1995 and 2012, Twingo achieved tremendous success in the Colombian market, notching up sales in excess of 100,000. Twingo Tatoo was Twingo 1's final limited-edition version.
Back: Introduction
Next: Buying Guide
Compare classic car insurance quotes and buy online. A friendly service offering access to a range of policies and benefits.

Get a quote