Renault Espace (1984 - 1991)
Last updated 4 December 2015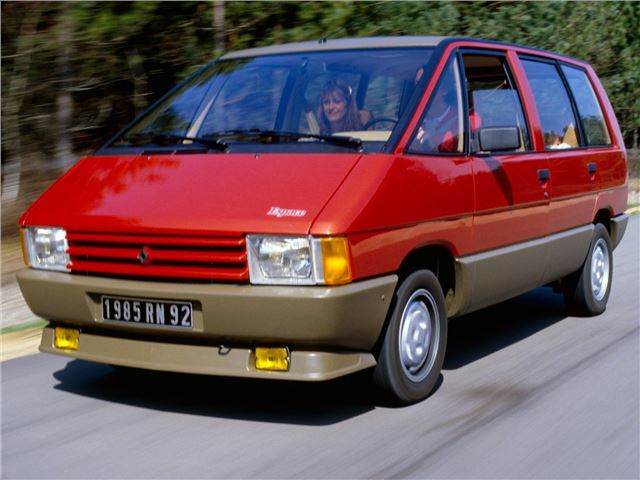 Extremely versatile, groundbreaking design, easy to drive and manoeuvre
Flawed driving position, flimsy trim, mechanical and electrical problems are all too common
Introduction
The Renault Espace's conception was a tortuous affair. Back in the 1970s, Chrysler UK was working on a number of one-box MPV concepts at its design centre at Whitley. Meanwhile over in France, Matra was working on a similar concept at its Romorantin-Lenthenay base.
Nothing odd about that - it's quite common that rival car makers are working on similar cars in a race to get them to market. The trouble was, Chrysler UK and Matra were loosely related. The two companies had formed a partnership in 1969 to develop sports cars. Eventually, they sat down and a proper project team was established, led by Matra.
Fast forward to 1980 and Matra is now making good progress on the project - called the P18. Matra wanted to work up the design as a replacement model for its Rancho (one of the first soft-roaders or crossover vehicles). Once again, the car would be based on Talbot (formerly Chrysler) running gear.
If you're a bit confused by the whole Chrysler UK thing, don't worry - you're not alone. Almost all car buyers were confused and this fact, coupled with an underdeveloped and underwhelming model line-up, saw Chrysler UK sold to PSA Peugeot Citroen for $1 in 1978.
So now we arrive at a crucial point in the Espace tale. New Chrysler owner PSA Peugeot-Citroen doesn't much like the P18 concept and bins it. Which is a bit unfortunate as the designs for the P18 are based on Chrysler mechanicals.
Undeterred, Matra refuses to give up on the concept and approaches Renault. Renault can instantly see a market for the car and after forming a partnership with Matra puts this new MPV into production, obviously with a fair bit of re-engineering to accommodate La Regie's drivetrains.
After more than ten years, the model finally comes to market in 1984 (1985 in the UK) as the Renault Espace. It's a multi-purpose vehicle and has a glassfibre body based on a galvanized (although it still rusts) steel spaceframe. Powered by the Renault Douvrin engine it's a basic affair with little choice in spec or engines.
At first, the public didn't really know what to make of it and sales were slow. Legend has it just nine were sold in the first month. However, following a number of enthusiastic press reports, sales started to pick up. After five years on sale, a facelifted version (the Phase 2) was produced to keep the first model going until a revamped car was ready.
The Series II arrived in 1988. You can tell it apart from its predecessor as it doesn't have the 'shovel front' face, opting instead for a front end that made it look, well, more like a Renault.
Perhaps the most interesting model in the range was the Quadra. As you can probably guess, this full-time four-wheel drive was designed to give the model traction (get it?) in markets such as Sweden and Germany where ice and snow make for trecherous driving conditions.
As sales increased, other car makers hurridly rushed their own MPVs into production, including PSA Peugeot-Citroen, which had turned down the model in the first place.
Next: Buying Guide