Renault 4 (1961 - 1992)
Last updated 1 July 2013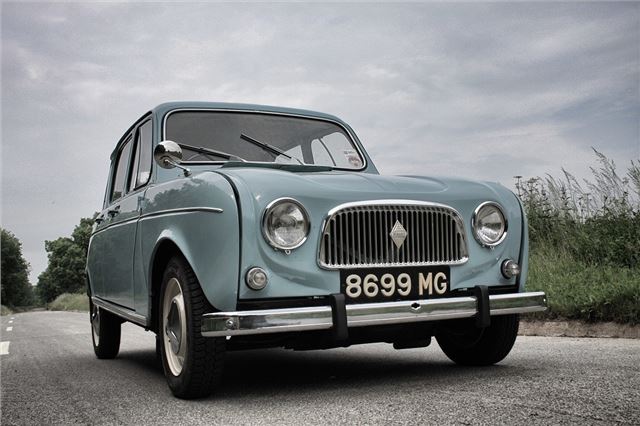 It's funny how many people like to talk about classics and how they are - or are not - suited to driving in 21st century Britain. One one hand, they're comfortable and relaxed to drive, and on the other, they don't have a hope in hell of keeping up with today's fearsomely quick turbo diesels, and lack any form of crash protection. Funny thing is, in most cases, once you're in and behind the wheel, and enjoying the experience, such matters really do fade away into the background.
Take the Renault 4. It was conceived and designed well over 50 years ago, and was made to meet a certain set of challenges that just wouldn't face car designers today. So, that meant lots of suspension travel, a big, square boot with a wide opening hatchback, and room for four. Performance, safety and equipment weren't on the agenda; the Renault 4 was a simple, utilitarian beast - and all the more beautiful for it today. Because, yes, despite being an extraordinarily basic mode of transport, the Renault 4 makes as much sense today as it did when it was launched.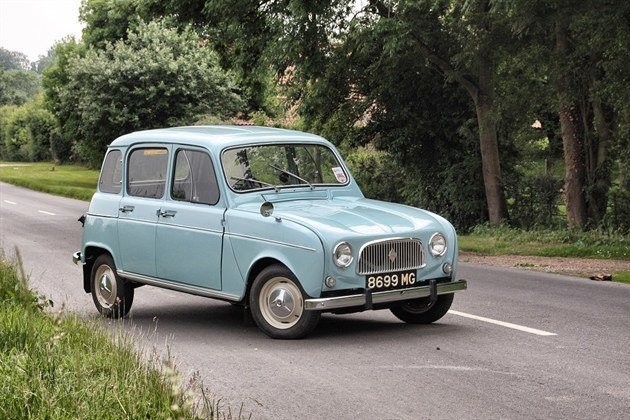 It looks like nothing else on the road - and although it rivals the Citroen 2CV in its minimalism, the Renault 4 looks far more cohesive and car-like than its dealiest rival. The styling, overseen by Yves Georges, is superbly judged. Items such as the grille brightwork and Renault's Art Deco badge catch the eye, as does the side-mounted exhaust outlet, but it's the cleverness of the packaging that really impresses. At 3.65m (just under 12ft) in length, the 4 is now considered 
a small car – and even when new, it would have hardly been seen as grandly scaled. But the 4 has five wide-opening doors and there's room inside for four grown-ups - or five, if they're really friendly.
The driving position is excellent – no offset pedals here – and the interior, although basic, is well finished and stylishly functional. Switch gear - such that it is - is all clustered around the central speedometer and takes some time to get used to. And like all UK-spec Renaults going well inot the 1980s, the indicator is correctly sited on the right hand side of the steering column. Heating and ventilation controls are crude - but fresh air control is genius. You pull a lever to open a flap mounted on the outside, underneath the windscreen, which just lets the air pour in as you drive along. Who really needs more?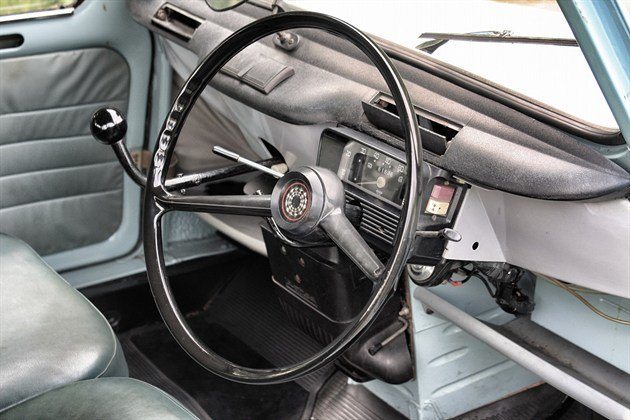 To modern eyes the gearstick, which emerges from the dashboard, is a little odd, but the shift pattern is conventional and the change quality is spot-on. It's a three-speed 'box, with first down to the left, towards you, with second and third across and to the right in their own plane. Changing between these two ratios is child's play, and due to the engine's torque and the low overall weight of the car (595kg), it pulls astonishingly well without need to drop down into bottom gear. And if you do, changing from first to second is done in a single, rather satisfying action, that's somewhat akin to cocking an old fashioned rifle. 
In rush hour traffic, this 1966 R4L acquits itself beautifully. Despite being powered by the brilliant 747cc Ventoux engine, which puts out a mere 28bhp, the R4 is keeping up with the flow, and causing much amusement as it does. The torsion bar suspension set up copes admirably with Britain's crumbling blacktop, smoothing out the potholes and levelling the undulations - it really does lope along in that long-legged way that used to mark small French cars.
Sitting shoulder to shoulder with your favourite passenger adds to the fun and, as you pull away surprisingly quickly in the low first gear, the tinniness of that eager little power unit makes way for a warmer, unburstable personality. Once up to A-road speed, the 4L needs some work to keep up with the flow of modern traffic - but much less than, say, a 2CV or Mini 850 - but once on the motorway, and on about half-throttle it cruises at around 60mph. But as the miles pass by, the speed rises imperceptably, and before you know it, you're ambling at 70mph, engine buzzing happily in front.
But it's in the rolling countryside that the 4L is at its happiest. As the roads open up, the Renault suddenly makes a whole lot more sense. British B-roads have an envious reputation for their irregularity that makes them perfect for chassis designers - and hell for badly set-up cars. But the 4 shrugs off these irregularities with a Gallic nonchalance that can't help but impress.
Put it down to long-travel suspension and well-controlled damping by all means, but the 4 weighs in at a mere 595kg 
so this car isn't steam-rolling the road the way a modern one would. 
And that loping quality marks out the 4 as extremely clever. But with such a cossetting, long-striding ride, don't assume that the 4L doesn't go round corners, because it does. And does so rather impressively. 
Sweepers are best taken with the throttle floored, to maintain precious momentum. Any new driver will find the level of body roll disconcerting, as well as the low-geared and very light steering. But once adjusted to this, you'll soon start pushing on and taking corners on the door handles. Just like a French farmer.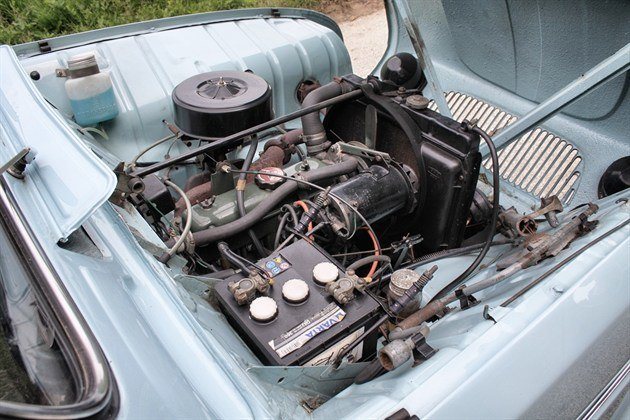 It grips tenaciously, and the gorgeously slim-rimmed steering wheel feeds back all the information you're ever going to need. The story it tells is one of grip, grip, grip. From the driving seat, it actually doesn't feel at all roly-poly – instead, it just inspires confidence. For that alone we love it.
De luxe and Super versions of the 4 were subsequently launched, and the ex-Dauphine Ventoux engine was expanded. In 1978, and in its ultimate incarnation, it received the 1108cc four-pot also used in the ultra-successful Renault 5, giving the 4GTL genuine traffic-matching pace.
But we already know that - and the 4 was so good, it proved amazingly effective in the sort of competition in which its ruggedness, reliability and long-travel suspension were more of an advantage than outright pace. It came second in the 1979 Paris-Dakar Rally behind the Range Rover, and matched that with an impressive third place the following year, against much faster opposition. Clearly the Renault 4 is rather special.
And that's why it's such a brilliant classic car to own today - find yourself a rust-free example that's been cherished as much as this one, lent to us by Renault UK, and you'll enjoy motoring at its simple best. The 4 feels completely unstoppable, as if it will trundle on as long as there's petrol to fuel it. Consequently, it's still a common sight in rural France, where owners love the way they can fix whatever breaks on their 4s with only the simplest of tools.
La quatre might have been created to motorise France's young families in the boom years, and was made necessarily simple as a result, but it really is more than the sum of its parts. More than eight million people fell for its charms during its 31-year production run, and we can understand why many people continue to do so today.
Back: Model Timeline
Next: Specifications
Compare classic car insurance quotes and buy online. A friendly service offering access to a range of policies and benefits.

Get a quote