Renault 18 (1978 - 1987)
Last updated 27 April 2013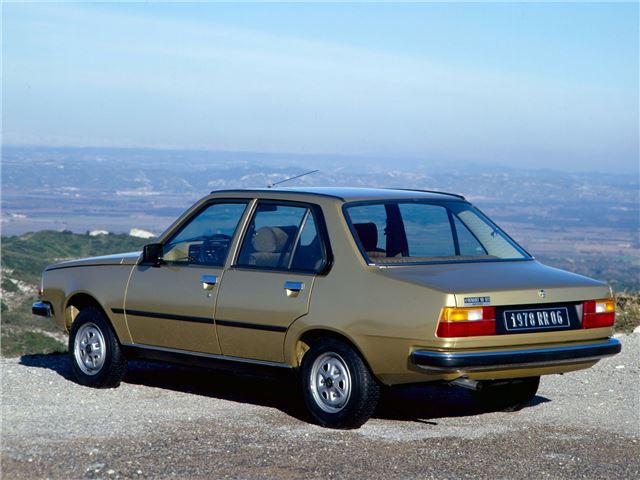 1979 Renault 18TS
1647cc, 79bhp, 97mph
The seats are as comfortable (and soft) as your favourite armchair, and as soon as you jump in and drive it, you'll be sinking in, and adopting a slouchy, slightly lazy driving position. Compared with the stiff, Teutonic style seats we're all used to in new cars, this is a real culture shock, and one that takes some getting used to.
Once underway, the long throw gearchange feels nicely mechanical, if a little vague and notchy compared with something like a Cortina, and offers stress-free ratio swapping. Only when dropping into reverse is it a bit hit-and-miss. The unassisted steering is reasonably accurate and not too heavy – and it only really causes concern when parallel parking in tight places. And the instrumentation is an object lesson in clarity – and minimalism.
There isn't really a lot of equipment in the TS – no rev counter, no central locking, no electric windows. In fact, all there is to worry about on the dashboard are the rear foglights,  heated rear window, and hazard warning switch. The wipers, lights and indicators are controlled by three slim column stalks, with the indicators on the right-hand (and correct for RHD) side. Adding to this feeling of Issigonis-like minimalism are the slim pillars, and light, airy cabin, which make town driving an absolute delight.
Performance is leisurely, of course, but in non-competitive town and extra-urban driving, it's more than adequate to keep up with the flow. What Car? magazine tested the R18TS back in 1979 and recorded a 0-60mph time of 13.8 seconds and a maximum speed of 96mph. It doesn't feel out-of-order slow because the four-speeder's gearing is low, and the venerable 1647cc pushrod engine delivers its best at low-to-mid revs.
But there is a pay-off. Head for the motorway, and the Renault 18 feels a little less in its comfort zone. It's lively up to 50mph, but keep the throttle pressed, and it begins to feel painfully undergeared. Because there's no tacho, I'm unsure just how many revs it's turning over at 70mph, but I'd reckon it's around 4000 – and that's enough to have it feeling thrashy and a bit disconcerting initially.
Still, it's not the end of the world, and you'll soon get used to it. At the 70mph limit, and at that speed, there's a reassuring lack of wind noise or mechanical vibration, and it feels like it could do this all day long. Not only that, but those soft seats and lack of apparent lumbar support do not manifest themselves in the form of backache – something you might expect. And if nothing else, that is a big advantage over the Vauxhall Cavalier, which does its best to make the driver feel like his leg's been stabbed repeatedly with a knitting needle.
Handling, too, is pretty good. It's a safe FWD set-up, so I find myself barrelling into corners without any real worries. It rolls a fair bit, but it's well damped and doesn't feel sloppy, and it's always consistent.
Back: Model Timeline
Compare classic car insurance quotes and buy online. A friendly service offering access to a range of policies and benefits.

Get a quote