Renault 16 (1965 - 1979)
Last updated 19 October 2013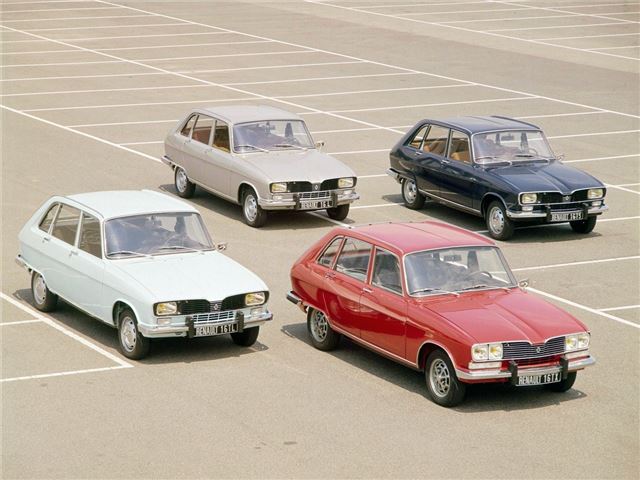 Introduction
For Renault, the 16 was upward expansion. The company had been doing good business with the Dauphine, Floride and 8, but it lacked a top of the range model to sate the demand of increasingly affluent '60s buyers. Renault designers were tasked with producing a new medium-sized car, and because Citroen's ID offered masses of space, comfort and style for the money, he came to the conclusion that the new Renault needed to offer something genuinely new.
His solution was to produce a hold-all; a cross between luxury family saloon and estate car – offering the buyer the option of two cars in one. Little did he know how much influence his idea would have… When the first pictures of the car appeared in the press in the autumn of 1964, people didn't know what to make of it – was the new Renault a saloon or an estate car? Either way, the front wheel drive hatchback aroused huge amounts of interest in France, and buyers anticipated its launch the following year.
Unsurprisingly, French buyers went mad for it – the Renault 16 had no domestically produced rivals, and it hit the spot. Sales were keen, Renault had a hit on its hands, and crowning glory came later that year when it was awarded the then prestigious Car of The Year award.
Character
Who would have thought that it would be possible to make a two-box design look avant-garde and interesting at the same time. And yet Renault managed it. The R16's styling has a flamboyance and that marks it out as something special – and just like the Renault 5, VW Golf and Peugeot 205 that came after it, there's a classless quality here that allows the R16 to fit in anywhere.
It's a very clever car, and drives far better than it looks. The Renault is frighteningly clever, and popular, too…
Performance
Look at the figures and the Renault looks very good indeed. Acceleration from rest is particularly impressive, with the 0-60mph run being dispatched in a flighty 12 seconds.
A new high flow aluminium cylinder head is much of the reason why the R16 TS (which stands for a very romantic sounding Tourisme Sport) performs so impressively. Its adoption adds extra top end zing to the unburstable engine. That makes it a car, which responds well to being driven hard.
But let's face it, the R16 won't be bought for its sprinting ability, most owners preferring a relaxed and effortless drive to stomach churning acceleration, which is a shame because it begs to be thrashed.
Handling
Being French and a child of the '60s, it does like to lean over in corners. And not just a little bit – after the flat Maxi, the R16 actually feels like it could topple over, given half the chance.
Of course, it never does. And just like legendary Frenchies like the 2CV and Renault 4, familiarity with the R16 will soon have the keen driver leaning on it in corners, and finding impressive levels of grip. It's sensitive to tyre choice and pressures, but when you get these right, the R16 is a real hoot to hustle around corners.
Ride
Ride quality is possibly the single most exceptional feature of the R16, and even though the TS is nominally the sporting model of the range, it offers that magic carpet experience unique to French cars. For such a light car, the way it dismisses surface irregularities , such as cat's-eyes, is truly impressive – the only indication for the driver being a muffled thump.
Gearbox
It might take time for the average driver to find himself at home with a column gearchange, but once acclimatised, it doesn't take long to appreciate just how good the R16's gearbox is.
Initially, there's a little vagueness, but once rolling, the shift is quick and positive in action, and better than some direct floor shifts that we could mention. Strong spring-loading is an issue for first-timers, too, but it gets easier with familiarity. In fact, after even a short period behind the wheel, one soon begins to wonder why column shift are the exception rather than the norm – it's probably a fashion thing…
Gearing is a little odd, with first to third being close ratio, then with an appreciable jump to fourth. The longish fourth is befitting of a car so happy at speed, but one can't escape the conclusion that a five-speeder would transform it.
Braking
The Renault 16 received larger brakes when it was upgraded to TS specification. The already effective disc/drum set-up benefited enormously from this improvement, and a keen brake action is befitting of the car's lively performance. Stopping power is impressive, but pedal feel is worthy of note. It would take a very clumsy driver to lock the front wheels on the R16 – even in the murkiest winter conditions.
Cabin and Controls
The Renault is a very charming place to be. It's difficult not to fall in love with the Renault's silver dash and racy looking chrome rimmed instruments. It's a real taste of the sporting life, French style – and it even comes with a rev counter, a real luxury in 1970.
Ergonomics are effective, too, with all switchgear falling nicely to hand. It wasn't always the case – with R16s running to a manual choke, you had a bit of a stretch to get it going on a cold morning. There is still the awkward handbrake to contend with, but on the whole, the Renault is an object lesson in simply effective dashboard design. Even the electric window switches are obvious and well-planned – slap, bang in the middle of the dashboard…
The seats are soft and luxurious, too – you sink into them, as you would your favourite beanbag. Experts on anatomy might complain about their lack of lumbar support, but we don't think the driver will struggle at all with comfort on longer runs. Visibility is excellent, and the view out front is commanding, thanks to the high-mounted front seats. Shame about the windscreen wipers, which are set up for left hand drive – a real pain in the neck for taller drivers.
Luggage Space
The Renault scores well here, which is no surprise. There are various seating and load space permutations you can go through, but none of them are remotely logical, or simple to achieve. There is no simple way of folding down the rear seat as you would in the Maxi – one option is to suspend part of the rear seat from the ceiling. Hmmm.
Once mastered – or at least understood – it is roomy enough.
Running Costs
Fuel consumption is on the right side of acceptable, with between 25 and 32mpg easily achievable. The Renault also has a high level of parts commonality with other cars in the range – it's just that they're all pretty rare in the UK, and finding a sympathetic mechanic isn't the work of a moment. Get plugged into the Renault Owners Club, and the situation improves dramatically.
Verdict
The Renault is almost impossible not to fall in love with. It has a vivacious character that engages you quickly, and has you getting up early to take the long way to work. It's a family car that is enjoyable to drive and in the right colour, will turn heads wherever you take it. There is no danger of seeing another one on your travels…
The Renault is a great car – and that's why we'd be the first in the queue to take this French temptress home, if one came up for sale at the right price. It's one of the true greats.
Back: Introduction
Next: Specifications
Compare classic car insurance quotes and buy online. A friendly service offering access to a range of policies and benefits.

Get a quote