Porsche 914 and 914/6 (1969 - 1975)
Last updated 3 April 2013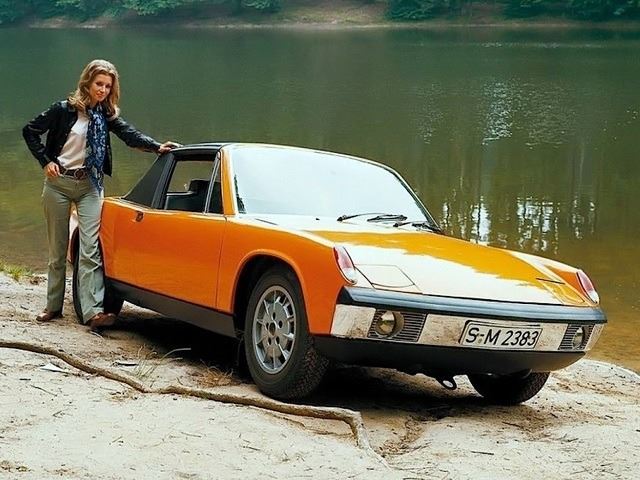 A Porsche with the engine in the correct location - four- and six-cylinder versions both handle sublimely.
Not quick enough to exploit that chassis, breeze-block styling
Introduction
The VW-Porsche 914 was a joint-effort between the two companies to produce a modern sporting car to replace the four-cylinder 912. In the lowliest form, the 914's engine came from the Volkswagen 411, and developed a lowly 80bhp. But because the engine was mid- rather than rear-mounted, the 914 was blessed with excellent handling, aided by an all-independent suspension set-up.
The targa roof clipped neatly out of the way to the underside of the bootlid when you wanted fresh air, and set a fashion that cars such as the Fiat X1/9 would follow well into the 1980s. Unlike the 911, the 914 wasn't exactly over-burdened with upgrades - in 1973 the 1.7 was joined by a 2.0-litre flat-four, and the following year the smaller engine's capacity was increased to 1.8 litres. 
The more 'Porsche' than 'Volkswagen' 914 was the six-cylinder version. It was powered by the 2.0-litre flat-six from the 911, although it was in entry-level 110bhp 911T-spec. The 914/6 didn't sell at all well, with 3360 finding customers, compared with 115,446 four-cylinder cars. Lack of sales was probably down to the price premium, which was too much in relation to the 15mph maximum speed difference.
Next: Specifications