Porsche 356 (1949 - 1965)
Last updated 3 April 2013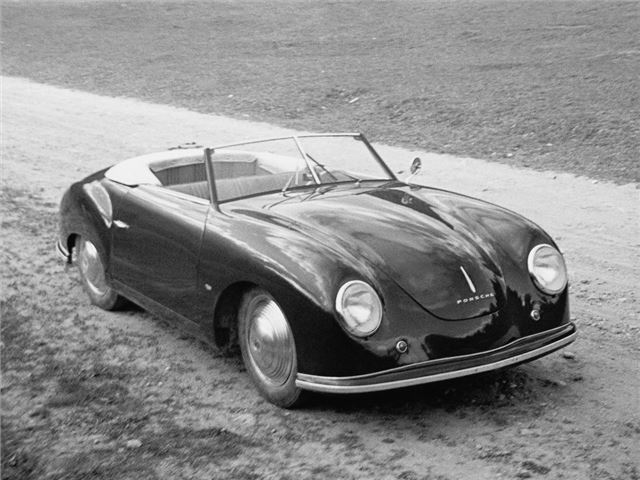 Loved by many (and copied by a few), gorgeous looks, fun to drive, even with the lowliest engine. Great specialist support.
Some parts are horrendously expensive, so make sure your car is complete.
Introduction
The first 49 Porsches were built in Gmünd, Austria, and are as pure a statement of their creator's art as you'll ever find. But while they are almost priceless Porsche artefacts, they're underpowered and not usable in the way that their production counterparts would end up being in subsequent years.
Series production started at Stuttgart in 1950, and the 356 now sported steel bodywork. Initial production started with the coupé, but the cabriolet version came on stream the following year, which in retrospect looked like the wrong way to do it, with sales of the open-topped car outnumbering its closed counterpart by 4:1.
Split screens were fitted until April 1952, when they were after which they were replaced by a single item. In true (subsequent) Porsche tradition, the engine capacity continually grew - from 1100 through 1300 to 1.5-litres. The 'S' version of the latter rated up to 72bhp, but was complex and short-lived.
in 1954, the Speedster was introduced - and became the most recognisable and valuable - of all the series production 356s. They were actually made at the suggestion of USA Porsche importer Max Hoffman, who wanted a stripped-down version of the 356 Cabriolet that could be raced at the weekends. And what a success it proved to be, with almost 3000 sold, mainly in the USA.
The first major revision came in 1955 with the facelift to 356A spec. This ushered in improved exterior styling, and introduced more civilised interiors. Once again, the engine capacity was increased to 1.6-litres, and this marked the point when the Porsche 356 started selling really strongly.
Again, further revisions weren't long in coming - first the more powerful 'Super', then the 356B, which added twin-choke carburettors and further styling revisions. You'll spot one of these by its larger bumpers and bonnet chrome. Next came the 1963 356C, which briefly sold alongside the 911. It was the first roadgoing Porsche to feature disc brakes, and the entry level engine was now boosted to 75bhp from 60bhp.
The 356 Carrera was a high-performance stand-alone version of the 356. It had a dauntingly complicated technical specification, with four gear-driven camshafts, dry-sump lubrication, twin sparkplugs and roller-bearing crankshafts on early models. They were built with competition in mind, and unlike the less powerful cars, they were rev-happy little things. The first 1.5-litre Carrera could hit 120mph, while the 2.0-litre Carrera 2, which came in 1962 (and which only 126 were built) could top 125mph. Truly exciting, both in terms of driving and value - and that's before you start looking at engine rebuild costs.
Next: Specifications
Buy a Porsche 356 from £75,810