Pontiac Fiero (1984 - 1988)
Last updated 3 December 2013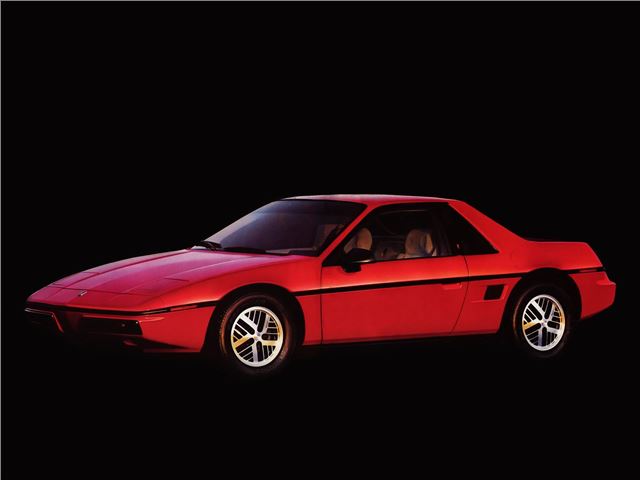 Clever mid-engined sports car, with sharp looks and balanced handling
Performance from the Iron Juke engine is bitterly disappointing
Introduction
The Pontiac Fiero was a clever little car that should have enjoyed a longer life than it did - but it was a case of limited development, and early set-backs that held it back. Effectively a US-version of the Fiat X1/9, and it was the USA's first mass-produced mid-engined two-seater; a commuter car based on Chevrolet Chevette underpinnings. It wasn't as if the Fiero was a slow seller, racking up 370,000 in its five-year life - but the experiment was abandoned early by GM. A mid-life facelift softened the styling, and a power upgrade improved performance.
From launch, the sporting looking car raised false expectations, and the 2.5-litre Iron Duke engine did its best impression of a boat anchor. Buyers tended to drive them hard and that led to problems. The engine's original oil pan held around 3.5-litres, and when oil ran low, a rod would go through the side the block and a fire would start. This led to a massive recall and it nearly killed the car, and sales never did recover from this early blow. Once the recall was complete and a new, bigger oil pan was installed, that problem was solved and the car was reliable, if slow.
The Fiero was dogged by an ordinary suspension set-uo, poor turning circle, and lack of power steering. In 1988, the Fiero received Lotus-tuned suspension, and more potent V6 engine, but the experiment failed – relatively speaking – and production lasted only five years and one facelift. Clever and detatchable external body panels made it an easy car to restyle - as a thousand Ferrari-style bodykit manufacturers would discover in later years.
Buy a Pontiac Fiero from £7,799