Peugeot 406 Coupe (1997 - 2003)
Last updated 8 June 2017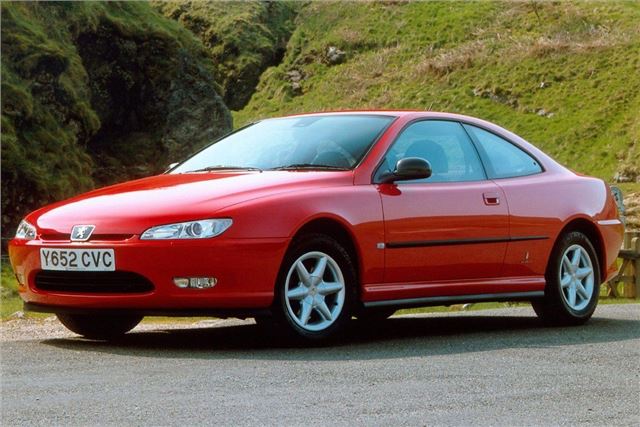 Buying Guide
Good
406 Coupe converted to LPG www.406-coupe.blogspot.com
Bad
Steering and handling of 3.0 litre V6 not as sharp or as sporty as 2.0/2.2 litre 16v. 

20th from bottom out of 137 models in 2003 Top Gear survey. 406 Coupe quietly dropped at the end of 2003.
Watch
Could suffer same aircon system problems as 406 saloon and estate. 

Can suffer coolant loss from hoses or rad which can lead to damage from overheating. 

Potential fault in indicator stalks from May 2001. Many owners force and break them. Free fix available in France from December 2002; in UK from January 2003. 

The 2.0 litre engines are easily chipped and power can be anything from standard 135 bhp up to 155 bhp. They don't have the low back pressure tubular exhaust manifold of the 167/180 bhp GTi-6, though. 

Oil consumption may be quite high. 

3.0 autos may suffer from warped discs due to owners holding them in gear on the brakes. 

Look for leaks: coolant, power steering fluid, gearbox oil, engine oil. Watch out for stress cracks in the doors under the mirror mountings.
2002 - 2007 2.2HDI prone to shredding its timing belt due to water ingress under the cambelt cover. If the belt fails and valves hit pistons the engine is irrepairable scrap. Seems that the injectors are virtually impossible to remove from the head.
31-12-2012: 'Gong' sound means that car battery is failing to hold sufficient charge and needs to be replaced.
Recalls
See 406 saloon. Also: September 2003, recall ref X1J, late coupes including 2.2HDI recalled because side airbags had been cross-wired.
Back: Model Timeline