Peugeot 106 (1991 - 2002)
Last updated 24 May 2019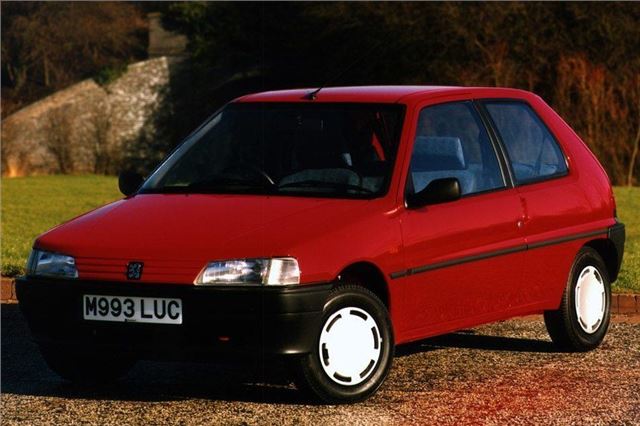 Buying Guide
Good
One reader bought a 40k mile 1995 106 1.1 in 2002, then drove 80k miles with very little trouble or replacements, averaging 48-50mpg
Bad
Twisted-spine offset driving position and big feet can hit more than one pedal at the same time. Tall people just don't fit.
Automatics have only 3 speeds. 

5th from Bottom of 100 models for reliability in Auto Express 2002 survey. 19th from Bottom in 144 car 2002 JD Power / What Car? Customer Satisfaction Survey of V and W reg cars. High 7 out of 9 point death rate from accidents in 1991 - 1996 models. 14th from bottom out of 137 models in 2003 Top Gear survey. Came 19th from bottom in 2005 JD Power/What Car Survey of 23,000 cars reg Sep 2002 to Aug 2003 with satisfaction score of 75.1%, though most of 106s surveyed must have been 2002 or late reg.
Watch
Check spare wheel is in its underboot cradle and not nicked. 

Check for front suspension wear. 

Oil leaks. 

Needs frequent timing belt changes. 

1.5 diesels need regular servicing and regular coolant replacement - are especially heavy on front tyres. Reports of symptoms of premature bore wear on 1.5 really due to oil misting as a result of overfilling. Should not be filled with more than 3.5 litres of oil which reads to 2/3 full on the dipstick. Also see Citroen Saxo which is virtually the same car. 

Check for falling-off-the-road damage to GTi 16v. 16vs tend to blow their cats when run against rev limiter. 

Check seat sliding mechanism as very prone to failure. Report of chafing of wiring for seatbelt pretensioners and airbag by the seat mechanism. 

Tip from Richard Turber about improving Saxo 1.0 and 1.1 brakes: "The brake servo has an pedal adjuster rod under a rubber cover which needed taking up a few turns, this noticeably improved the braking immediately. The rear brakes were still only just holding on a moderate incline and when I stripped them again after 1000 miles they had worn the adjusters smooth, thus no permanent take up on the handbrake. So I bought the cheapest linings I could find which came with separate, but much more robust looking, adjuster cams. I replaced the Citroen adjusters but kept the linings on, and bingo; excellent." 

Further warning about rear drum brakes is that the linings are merely stuck to the shoes, can come unstuck and can seize the entire rear drum. 

Some DIY advice from Brian Wright to anyone running the original 1.4 diesel: "The 106 1.4 diesel engine gets very hot. This is due to the fact that there is no premapped out circulation. The water around the liners and cylinder head get very hot and cannot move until the thermostat opens. Therefore the head gasket eventually blows. After replacing two head gaskets, one at 60,000 miles another at 80,000 miles, when I also skimmed the head, I sat down and pondered for hours as to what I could do to alleviate the problem. I did solve it and now my 106 has done 188.000 with no problems. The answer not only stops the engine overheating but there is now no problem filling it with water/antifreeze due to airlocking. Take out your thermostat. Drill a 1/16 dia hole top and bottom of the face and refit. This allows the weak pump fitted to the engine to pump enough water around to cool the necessary parts of the engine. The cooling fan is another problem as the stat fitted only comes in at an extremely high temperature when it is sometimes to late. Another tip. Do not let the engine idle for to long as the pump is so weak that at idling speed it cannot pump sufficient water around the system."
Recalls
1997 (March-Nov '96 build: 15,821 cars): ignition switch harness may foul on steering column.
1/2/2000: possibility that brake servo valve may not operate correctly resulting in loss of servo assistance. 18,405 cars recalled for inspection and possible replacement of brake servo valve.
21/2/1001: On 2000 106s brake pedal relay lever may fracture leading to loss of brakes. Relay levers to be replaced (See Citroen Saxo).
28/2/2002: On 106s with twin airbags, may be a fault in the airbag ECU. Cars recalled to have ECU electronically interrogated.
Back: Model Timeline
Compare classic car insurance quotes and buy online. A friendly service offering access to a range of policies and benefits.

Get a quote