Nissan 300ZX (1990 - 1996)
Last updated 11 May 2013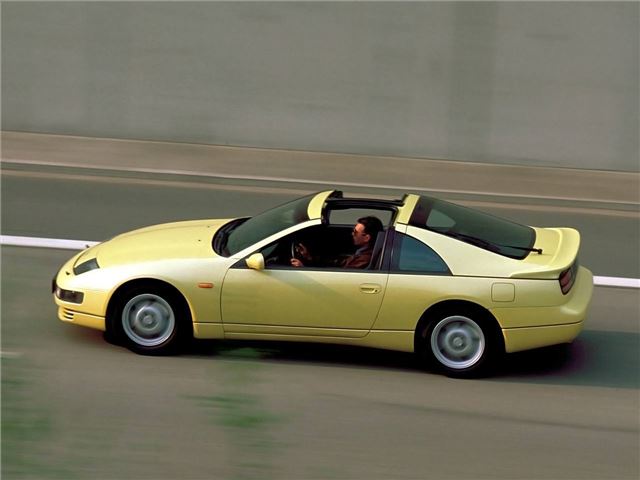 Buying Guide
Good
Code name Z32 Fairlady. Very serious twin-turbo 280 bhp junior supercar, killed off by European emissions legislation. 'Full on' manuals or 'Mr Softy' autos, UK spec with leather and air.
Squat shape 14' 10" long by 5' 11" wide and a substantial 1,580kg.
Very comfortable. Goes like stink and handles surprisingly well. 5-speed manual or 4-speed auto.
Very rare 2 seat convertible version and even rarer convertible hardtop available in Japan.
Two wheelbases. SWB 2-seater and LWB 2+2. UK built LWB 2+2 with full leather only.
Bad
UK production ended 1996.
Rear three-quarter vision not good.
Handbrake a long way back.
To drive, the manual is best.
The two turbos are £1,500 each new.
Watch
Grey imports without the twin turbos and other important items of kit.
Greys have less rust-proofing so tin worm is also a problem with these cars.
Noisy engines.
Exhaust smoke (turbo oil seals @ £1,500 a turbo), dirty oil, lack of maintenance.
Look for uneven tyre wear - may be simple misalignment, may have been 'sausaged'.
Manual boxes and clutches lead a hard life and boxes are mega expensive to replace.
Cars which have been sitting require a full recommission or you'll be in for all sorts of problems. Tyres may have 'flat-spotted', discs rusted, exhaust rotted (especially rear silencer boxes).
Targa roof panels may leak - not easy to get new seals for them.
Power steering may have sprung a leak.
Back: Introduction
Next: Running
Buy a Nissan 300ZX from £9,999