Nissan Datsun 240Z (1969 - 1975)
Last updated 1 October 2013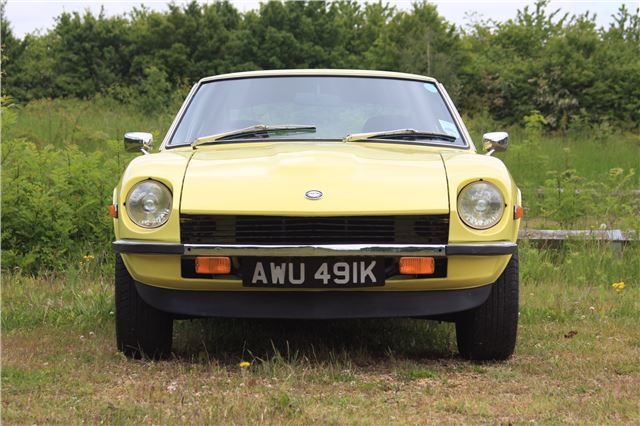 Model Timeline
January 1964
Nissan and Yamaha join forces to develop the A550X prototype
One of Nissan's senior executives, Yutaka Katayama, had been working in the USA since March 1960, helping setting up (NMC USA), the company's North American import and sales division. He oversaw Nissan's early expansion and growth, and his career blossomed just as quickly. By 1965, he was the president of NMC USA. Katayama and colleague Keiichi Matsumura began lobbying Japanese management to build a sports car tailored specifically to the US market.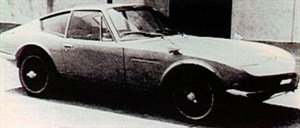 The result was the A550X (right) project, a 2.0-litre coupe, developed in association with Yamaha. For the styling, Nissan wanted a European designer, and commissioned Albrecht Goertz to pen some proposals. Goertz was an interesting character, an Austrian aristocrat, who styled the wonderful BMW 507, and one with a taste for self-promotion.
The A550X joint venture project was developed into a full-scale running prototype, and was powered by Yamaha's jewel-like straight-six, but failed to gain traction, and eventually was cancelled by Nissan in June 1964. As a side note, Yamaha perservered with the project and ended up taking it to Toyota - with the production version emerging in 1967 as the delightful 2000GT. History will record that car as a wonderful machine, but also backs up Nissan's decision not to build the car - as a mere 337 were built.
October 1965
Yoshihiko Matsuo chosen to lead the development of Nissan's own sports car
The continued development of a new Nissan sports coupe was as the result of a battle between the US dealers and Japanese management. The former wanted the car; the latter did not.
Teiichi Hara, head of Nissan's Engineering Design and Development department, appointed sports car-loving Yoshihiko Matsuo as head of the new Sports Car Design Studio. His first assignment was to devise the new coupe that the US dealers so dearly wanted. Matsuo perservered with his US-inspired sports car designs, despite a lack of support from Nissan's management, which had concluded that sports cars were not really a priority for the company. The Silvia coupe and Fairlady roadster were a long way from being successful, and that did little to convince management to stop being so conservative.
Katayama worked hard to convince management to perservere with the project, and was buouyed-up by Matsuo's enthusiasm for the new project.
January 1967
Project Z gains traction
Matsuo had progressed the designs to clay model stage by this point - and the good looking cars were gaining an increasing number of allies within the company. A pivotal moment in the development of Project Z was engineer Hisashi Uemura, head of Nissan's Section Three production division, climbed aboard and had his section lend some staff to assist with the programme.
There were several design proposals, but the final design chosen was a conventional coupe, which took elements of the A550X, the Jaguar E-type, Triumph GT6 and Ferrari 275GTB/4 - but with an identity all of its own. Matsuo had undoubtedly created a stylish coupe, which continued to win friends within Nissan.
November 1967
Project Z approved for production
Rather like BMC's sports cars, Project Z was designed to use as many off-the-shelf components. Its suspension, and brakes were all used in the Cedric, and its 2.0- and 2.3-litre straight-six was a development of the Bluebird's 1.6-litre four-cylinder.
November 1968
Running prototypes begins testing
Road testing on Project Z took place in various locations, with the emphasis on the USA. Several technical changes were made as a result of this, included suspension changes, the fitment of a smaller fuel tank and an extensive weight reduction programme.
October 1969
Datsun 240Z goes on sale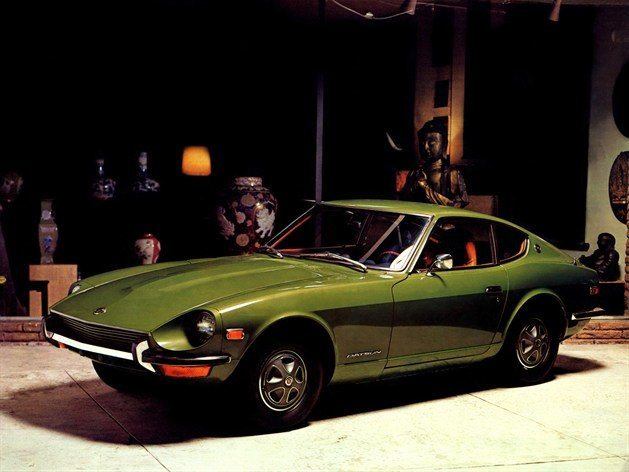 US specification Datsun 240Z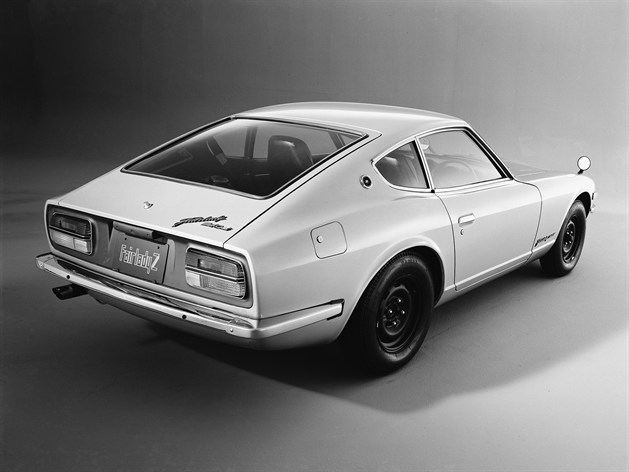 Japanese specification Nissan Fairlady Z

Project Z went into production on in the summer of 1969, and went on sale on 22 October. It was known as the S30 internally, was called Fairlady Z in its home market, but was renamed 240Z for the US and Europe - for obvious reasons.
The 240Z's technical specification was far more appealing than its mainly British opposition, the Triumph GT6 and MGB/MGC. It bosted fully independent suspension, with struts front and rear. Disc brakes were fitted up-front only, but were more than capable of reining in speed. Fat tyres were mounted on steel 14-inch wheels that had stylised hubcaps that had most buyers plumping for optional alloy wheels.
It was practical for two people, too, with a lift-up hatchback and capacious boot. There was plenty of showroom appeal, thanks to a low-slung driving position, deep recessed dials, and a 160mph speedo alongside a 8000rpm rev counter. The 240Z's was powered by a 2393cc engine (in export markets - the 2.0-litre was reserved for Japan), which developed 151bhp (SAE). In its January 1970 road test, Road & Track's January 1970 recorded a maximum speed of 122mph - but most owners will tell you their 240Z is a 125mph car.
The was an instant and substantial success in its intended market. The Americans took it to their collective hearts and 240Z was soon commanding a premium for potential owners who didn't want to join the waiting list. In the USA, Nissan had planned for 1600 cars per month, but the shipping quota of 2500 Zs per month was reached by mid-1971. The company could have sold many more.
January 1971
Minor running changes made to the 240Z
There were a few changes to the 240Z for 1971 - the air vents moved vents from the hatch to the C-pillars, and engine refinement was improved. The three-speed automatic version was introduced, but few buyers took up the option. Even by this time, two years into the production run, dealers were charging a premium for 240Zs.
September 1973
The 240Z is replaced by the 260Z
Production ends with 168,584 240Z built.

Back: Introduction
Next: Driving
Compare classic car insurance quotes and buy online. A friendly service offering access to a range of policies and benefits.

Get a quote