Mitsubishi Delica (1994 - 2007)
Last updated 10 January 2014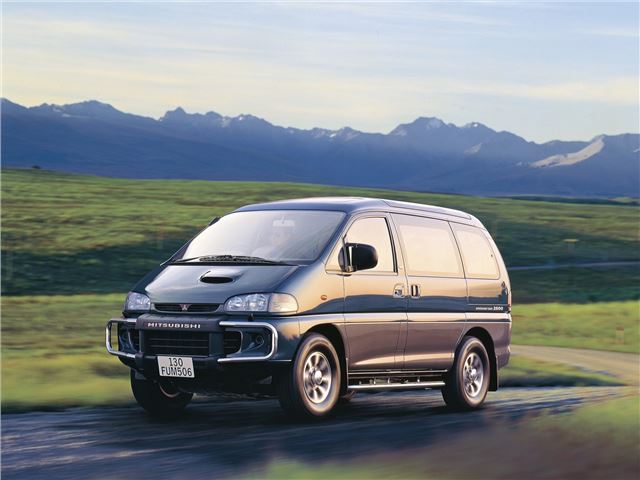 Versatile interior layout, Shogun underpinnings, some are very well equipped, ideal for congested city streets or country lanes, refined long-distance ability
Can take a bit of getting used to in corners, ride quality and braking are on par with better large 4x4s, centre-row seats not easily removed, early diesels dislike low-sulphur fuel
Updated 1 January 2007
Delica proves a popular UK Grey Import
In 2006, UK's 5th most popular used Japanese import. Technical 'pocket mechanic' manual by Peter Russek for Delicia L300 and L400 available through the club. Japanese L400 crash test data at:...
Introduction
The fourth-generation Mitsubishi Delica (or Space Gear, or L400 depending where you bought it) was a 1990s remix of the company's popular mid-sized minivan/people carrier. The main visual change over previous versions is the aerodynamic styling, which brought the concept right up to date. Of course, in the UK, the Delica was best known in chunky Space Gear form, a go-anywhere camper-cum-leisure vehicle, which was retrospectively 'grey' imported in substantial numbers during the late-1990s and early-2000s.
Japanese market cars were offered in a myriad of versions, including XR, XG, Exceed, Super Exceed and Royal Exceed, and many combinations of these made it to the UK and Ireland. The body was also available with two wheelbases. Unlike any of its rivals, the 4x4 versions of the Delica offered proper off-road capability, with differential locking, and high- and low- ratios for its four-wheel drive system. It was also offered with a number of powertrain options, including 2.5- and 2.8-litre diesels, and 2.4- and 3.0-litre V6 petrols. Revised in 1996, and continued in production until 2007, the later models are a popular import in the UK with much improved tolerance for modern fuels.
Next: Model Timeline