Mini Mk1 (1959 - 1967)
Last updated 19 November 2014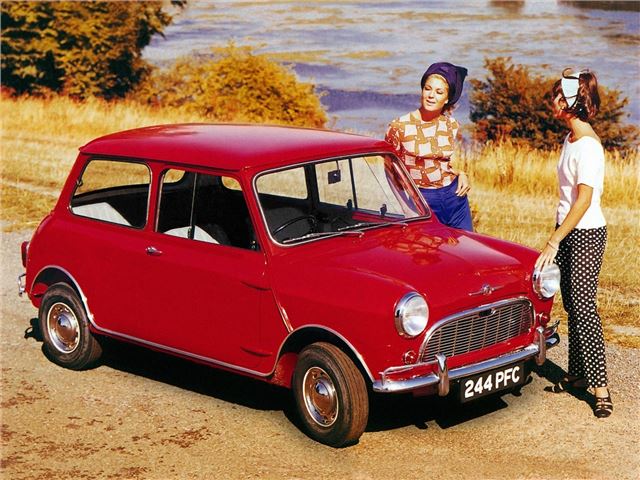 Buying Guide
Bodywork
The most common rot spot is ahead of the doors where the front wings, A-pillar and scuttle all meet.
Mud collects at the top of the rear of the front wheelarch, which is a pain to fix.
Also check the arear where the inner scuttle panel meets the inner wing behind the wheelarch.
Sills can rot, with corrosion spreading from the point where the inner wing, A-pillar and floorpan all meet.
The area the subframe is mounted to the floor often rots, too.
Liftt the carpets and inspect the floorpans.
Remove the back seat and check for rot, and also look at the state of the inner wheelarches.
Shock absorber mounts are also rot-prone.
Rust can also be found underneath the windscreen rubbers.
Engine & Gearbox
The A-series is proven and simple. Listen for knocking and looking for clouds of smoke from the exhaust.
If the engine won't run properly it may be because of water in the distributor.
Valve guides and stem seals wear on the 1275cc engine so check for oil burnt on acceleration.
Oil leaks are common with these engine, often from around the timing chain oil seal.
Whine is to be expected from the gearbox, while synchromesh cones also wear.
Oil is shared between the engine and the gearbox so regular (3000-5000 mile) oil and filter changes are crucial.
Check the CV joints by turn the car on full lock and listening for clicks.
Steering & Suspension
The rack-and-pinion steering should be taught with no play.
By 1971, all Minis had reverted to the original rubber-cone set-up for cost reasons.
Is the car 'crabbing'? It might be because the suspension is out of alignment – renew the radius arms.
Check the tracking at the front – tie rods get bent when the front wheels are kerbed.
 Electrics and trim
Early Minis got a dynamo, post-1971 cars have an alternator.
Check the connections on the boot-mounted battery to avoid electrical gremlins.
Dodgy electrics can sometimes be down to dodgy bullet connectors on the wiring loom.
Original trim is hard wearing, and many reproduction parts are available.
Exterior trim is often unavailable so you'll be buying secondhand from autojumbles and the like.
Back: Model Timeline
Next: Specifications
Compare classic car insurance quotes and buy online. A friendly service offering access to a range of policies and benefits.

Get a quote