Mini Cooper 997 and 998 (1961 - 1969)
Last updated 20 March 2013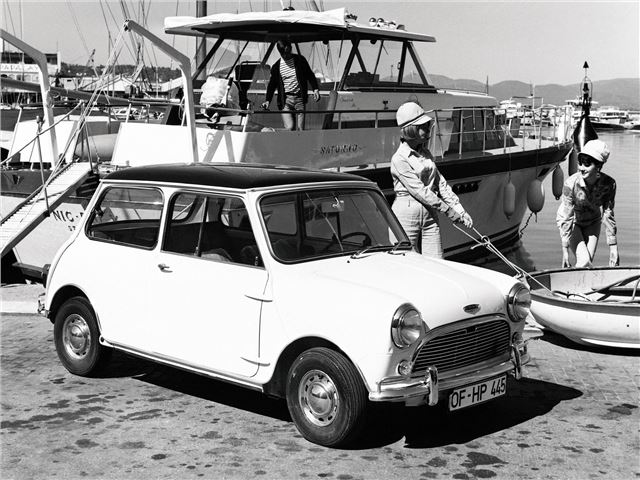 Model Timeline
September 1959
John Cooper dreams up a faster Mini
Cooper was fond of telling the story of how during the race meeting the Mini was spotted by one Aurelio Lampredi. Lampredi had formerly been the chief designer of Ferrari, and had been responsible for the cars that Alberto Ascari had driven to the F1 world championship in 1952 and 1953. Lampredi was now working for Fiat and asked John Cooper if he could try BMC's new baby. According to Cooper, Lampredi was away for hours and when he came back he announced that the Mini was the car of the future, adding: 'If it weren't so ugly I'd shoot myself'!
Although this has become a well known Mini chestnut, what is not generally appreciated is that Aurelio Lampredi improved on the Mini formula. The 1965 Autobianchi Primula and then the 1969 Fiat 128 used a transverse engine driving the front wheels, but instead of the engine being positioned on top of the gearbox using the same oil, the Fiat 128 employed an end-on transmission using a separate oil reservoir. This has become the universally adopted system for front wheel drive cars. Two years later Fiat introduced the Fiat 127 – the first true supermini – and Lampredi even appeared in a press advert for the car, along with an F1 car he had designed. BMC may have got there first, but it was Fiat who made it reliable and a commercial proposition.
June 1961
First Mini-Cooper prototype built
John Cooper then set about building a fast Mini, probably YOK 250. The work was overseen by long-time Cooper employee Ginger Devlin and featured many components from the FJ engine and allegedly had three times the power of the standard Mini 850 engine, which would be around 100bhp. By 1961 the FJ engine was a 994cc unit developed by Eddie Maher of Morris engines in Coventry.
John Cooper approached his friend and Mini designer Alec Issigonis with his idea for a hot Mini. Issigonis initially rejected the idea, seeing his baby as a people's car. Undeterred, Cooper took his idea to BMC's managing director George Harriman, who drove Cooper's prototype and then gave the go ahead for production of 1000 cars for homologation purposes.
Homologation is the key word. Right from its introduction the Mini 850 had been used in competition, and a Cooper Car Co-entered privately entered Mini 850 driven by Sir John Whitmore won the 1960 1961 British saloon car championship. George Harriman offered John Cooper a £2 royalty on each car, to be sold as an Austin or Morris Mini Cooper, and BMC took on the development of the production car under the codename ADO50. Also it seems that as part of the deal BMC would back the Cooper Car Company as the official BMC Mini team in saloon car racing.
Former BMC and Ford competition manager Stuart Turner has since commented that if John Cooper had not come up with the idea of a hot Mini, then someone else would have. The Mini was already a successful competition car in the sub-1-litre category and an MG-badged variant would have been on the cards. As it was, the ADO50 was badged Mini Cooper after the reigning Formula 1 world champions. In 1960 the Cooper Car Co dominated Grand Prix racing leaving the likes of Ferrari and BRM trailing in their wake, so the decision was entirely logical.
And so BMC set about developing the production Mini Cooper, using a Mini registered as KEL 236 as development car.The standard 850′s 34bhp gave it a top speed of 73mph using a final drive of 3.765 to 1. Morris Engines calculated that to propel a Mini to 85mph would need 55bhp, so company head Eddie Maher developed a 997cc engine with a longer stroke than the existing 848cc unit, yet bizarrely a smaller bore. Quite why BMC didn't use the existing 948cc block as found in other BMC small cars is unknown, but over the next five years BMC were to develop a bewildering range of different capacity A-series engines. To stop the car Lockheed provided 7in disc brakes, which as it turned out were not that good!
July 1961
Mini-Cooper production began at Longbridge
Production of the Mini Cooper began at Longbridge on 11 July 1963.
September 1961
Mini-Cooper was launched
The Mini Cooper was launched the 20 September 1961 and was acclaimed by the motoring press. The car had a maximum speed of around 85mph and a 0-60mph time of 17 to 18 seconds, not fast today but impressive back in 1961. Most of the hike in engine power came from the camshaft, part number C-AEG567, which was the hottest cam fitted to a production A-series until the arrival of the MG Metro in 1982. Other gains in power were realised with a cylinder head with larger inlet valves and twin 1¼ SU carburettors. Tuning guru David Vizard later tested the BMC twin-carburettor inlet manifold on a flowbench and found it to be an appallingly inefficient design…
What this writer finds interesting about the 997cc Mini Cooper is that it previewed two components that were to be found on the ADO16 Morris 1100 launched eleven months later: the remote gearchange which replaced the 850′s magic wand and the 12G202 cylinder head which was standard equipment on the 1098cc engine found in Austin/Morris 1100s. John Cooper's desire for a hot Mini was somewhat compromised by the need to productionise the concept and use standard BMC components. However help was soon at hand in deepest Wiltshire.
February 1964
Mini-Cooper 997 replaced by 998cc version
While this was happening the 997cc Mini Cooper was discontinued. Since 1962 the 'posh' Minis, the Riley Elf and Wolseley Hornet had used a new A-series engine, the 998cc, which was a short-stroke version of the 1098cc unit used in the ADO16 1100 saloon. In early 1964 the Mini Cooper received a 998cc version of the MG 1100′s engine, also rated at 55bhp, which it retained until the cars demise in 1969.
November 1969
The last Mk2 Mini Cooper 998 emerged from Longbridge
Also the British Leyland merger brought with it new management determined to cut costs: BLMC had no need for consultants. John Cooper later recalled Sir Donald Stokes saying: 'We employ 150,000 people here, what do we want consultants for?'
Back: Introduction
Next: Specifications
Buy a MINI Hatch from £19,995
Compare classic car insurance quotes and buy online. A friendly service offering access to a range of policies and benefits.

Get a quote