Mini Cooper 1275S (1964 - 1971)
Last updated 7 April 2013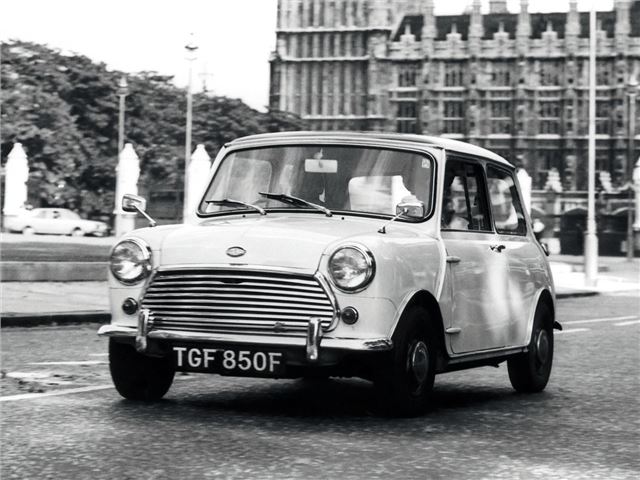 Model Timeline
March 1964
Mini-Cooper 1275S launched
The legendary Mini Cooper 1275S used a longer stroke than the 1071S. Peak power was 76bhp. Stuart Turner had pushed for a wilder camshaft but was told that the 1275S had to be a car that was capable of being driven by the district nurse! With this potent engine the 1275S could attain 97mph and 0-60mph in 11 seconds.
The halo effect of the Mini Cooper 1275S seemed to bless the rest of the BMC range as the company carved out a 35 per cent share of the UK car market, with the ADO16 firmly ensconced as Britain's best selling car. If the Mini was too small for a family, why not buy a bigger version? However, despite its huge sales, BMC's profits were disappointing.
January 1968
Mini-Cooper S receives new Richmond-designed cylinder head
BMC Introduced a new cylinder head, the 12G940, designed by Daniel Richmond. This new casting was fitted to all 1275cc engines, only differing in inlet valve sizes. The version fitted to the 1275S was similar to that fitted to the ADO16 MG 1300 and 1300GT, and the later MG Metro. The original 1275S cylinder head (the AFG163) was prone to cracking between the valves, so the 12G940 employed smaller exhaust valves which cost around 2-3 bhp, although BMC continued to claim 76bhp in their publicity brochures. The 12G940 was an open chamber design like the 12G295 fitted to the 998cc Cooper/MG1100.
June 1968
Mini-Cooper contract extended for a further three years
Sir Donald Stokes, chief executive and managing director of British Leyland, said that the development of the Mini Cooper saloons and their numerous successes in international racing and rallying had played a major part in promoting world-wide sales of BMC cars.
October 1969
Mini-Cooper 1275S Mk2 launched
The ADO20 Mini Mk2 redesign was unveiled - encompassing the introduction of wind-up windows and concealed door-hinges, along with a new variant: the Mini Clubman.
March 1970
Mini-Cooper 1275 Mk3 launched
The Cooper 1275S continued in production, and from March 1970 it made the transition to Mk3 ADO20 form, although sales of this variant were down on the car's 1960s heyday. It's difficult to ascertain whether this was due to lack of promotion on BLMC's part or the fact that the Cooper 1275S had simply gone out of fashion. Certainly there was no attempt to differentiate the car from the bog-standard Mini 850 and 1000 apart from the wider steel wheels. Despite the higher price and performance the 1275S lacked the Clubman fronted GT's equipment, go-faster stripes and general up-to-date image. It's as if the 1275S remained available for those buyers who wanted one for competition use.
June 1971
Mini-Cooper 1275G production ceased
The last Mini Cooper 1275S came off the Longbridge production line in June 1971, when the three year agreement with the Cooper Car Company concluded in June 1968 expired. In 2001 Lord Stokes stated why the Mini Cooper was axed: '…It was an expensive car to make – there were so many different body pressings. We lost about £20 per Mini. Then people wonder why I scrapped the Cooper. We were giving more money to Mr Cooper than we were making in profit.'
Back: Introduction
Next: Specifications