MINI (BMW) One (2001 - 2007)
Last updated 18 September 2019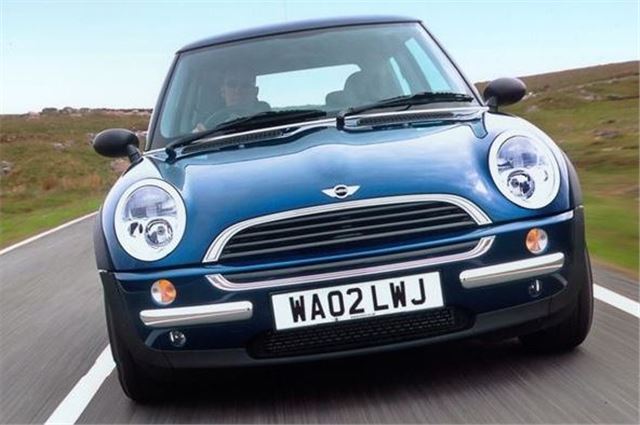 1.6 engine same as Cooper, so just needs an ECU remap to give the same power.
A/c not standard. Plastic wheeltrims are. Needs expensive spec upgrades to make desirable.
Updated 14 October 2005
MINI One Seven launched October 2005 features Solar Red metallic paint, 'Seven' cloth and 'Seven' interior trim, MINI Seven decals and 15" Delta spoke alloy wheels. MINI One Seven also includes Automatic...
Introduction
During the dissolution of the former Rover Group, BMW allegedly cherry-picked the best bits and keeping the iconic Mini brand for itself. The rest, as they say, is history as the BMW new range of small MINI-badged cars sold like hot cakes.
Much of the development of the car was carried out by Rover. Its codename, R50, was in-line with other Rover Group projects, and the chassis and body were engineered at the company's Gaydon HQ, largely by British engineers. There was American input, too, with Chrysler-sourced engines (arguably the launch car's weak point) and styling from the pen of Californian designer Frank Stephenson, who famously stuffed a beer can into the back of the clay model when the original styling buck had been created without an exhaust tailpipe. The feature remained in the exact same position on the production car...
The original plan, before BMW sold its 'English Patient' to the Phoenix Consortium for a tenner, was to build the R50 at Longbridge, on the production line vacated by the labour-intensive original Mini. But with the separation from MG Rover, BMW elected to keep the newer, more efficient Cowley plant, now known as MINI Plant Oxford, in which to produce the car. It was, arguably, the beginning of the end for the famous Birmingham plant.
Despite the emotional impact the BMW sale had on die-hard fans of British cars (some of which is still felt even today), the MINI arrived to a rapturous reception. The slightly gruff engines were easily offset by the BMW-inspired build quality, cute retro styling and impeccable handling, which was further exploited later in 2001 when the supercharged Cooper 'S' arrived. The MINI was a sensational hit, and won multiple awards.
Next: Model Timeline