MG TF (2002 - 2005)
Last updated 27 February 2019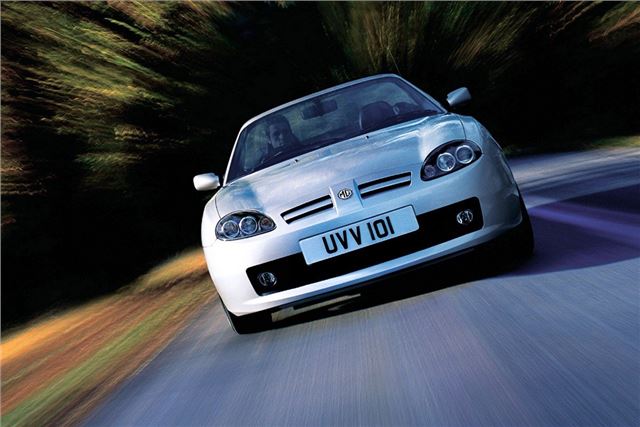 Model Timeline
January 2002
Comprehensively revamped and re-named MGF. Peter Stevens designed front similar to MG X80, all new suspension, more power throughout the range and masses of detail improvements.
Power outputs go up as per model designations, starting with the 1.6 litre MGTF 115 and rising through the 1.8 litre MFTF 120 Stepspeed and 1.8 litre MGTF 135 to the 1.8 litre VVC MGTF 160. New suspension includes a multi-link rear axle with "precise kinematics control", coil springs instead of interconnected Hydragas spheres, and solid mounted subframes for improved response. Detail improvements include a greater choice of paint colours, interior trims and optional hood colours (but no mention of a glass rear screen).
February 2002
On sale in the UK in February 2002 at prices from around £15,750. Excellent, confidence-inspiriring roadholding and handling, good brakes, enough performance from 160. Four star NCAP crash safety score in early 2003, plus three star NCAP pedestrian friendly score, possibly highest ever for a sports car.
Uprated head gaskets with steel locating dowels to reduce likelihood of head gasket failure. Improvements from February 2005 includes a heated glass rear window, new alloy wheels and a more stylish interior.

31-1-2007: Announcement that final production of mainly Chinese bult TFs to resume at Longbridge. NAC MGTF LE 500 in limited production at Longbridge by September 2007.

26-8-2010: New stainless steel coolant pipes available for manual MGF and TF cars from all XPart AutoService centres and parts wholesalers. The pipes are being manufactured on original MG Rover tooling and have been rigorously tested to meet with XPart's quality requirements. They offer a robust alternative to the cars' standard-fit steel pipes, which are susceptible to corrosion. The new pipes cost £65 + VAT and can be ordered under part number PEP102470SS. More at www.xpart.com
Back: Introduction
Next: Buying Guide
Buy a MG MGTF from £5,495