MG MGA (1955 - 1962)
Last updated 27 November 2018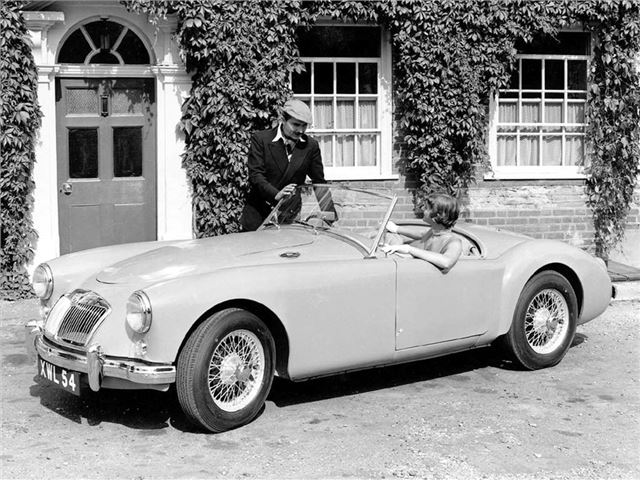 Beautiful styling, fast in Twin Cam form
B-Series engine feels unsporting, Twin Cams are fragile
Introduction
The leap from Midget to MGA is hard to comprehend in modern terms - because the difference between old an new was so wide that you'd be forgiven for thinking it had skipped a couple of generations. And in effect that is what happened.
The MGA's styling in Roadster and Coupe form was both aerodynamic and beautiful, and technically, it had also moved on considerably from the T-type Midgets. Power was by the twin-carburettor B-series engine; it had independent front suspension and rack-and-pinion steering; and even the first 1.5-litre 'A could top 100mph. It was initially offered with the 1489cc four-cylinder B-Series OHV engine in 68bhp form, but this was uprated to 1.6-litres in May 1959 for the Mk2 facelift.Lockheed front discs made their first appearance at the same time.
The trouble with the MGA was that it wasn't as fast as it looked. Although the standard 1.5- and 1.6-litre cars offered adequate performance, quite a few owners wanted more. MG waited three years to satiate demand with the brilliant Twin Cam. Harry Weslake designed the new twin cam cylinder head for the B-series engine - and the net gain was improved breathing and more top-end power. With a maximum speed of more than 110mph, they were a great deal of fun - and because they looked almost the same as the standard car, the Twin Cams had a certina Q-car appeal.
However, the MGA Twin Cam was far from trouble-free. It was an expensive engine to make in the first place, and that extra cost was reflected in the increased list price. As a result, a mere 2111 Twin Cams were sold compared with 101,000 single-cam models. But there was more - it was an unreliable engine, which suffered from piston damage and other bottom-end failures. Rebuilds were expensive, and many just weren't fixed - leaving few survivors today. Today, if you want your MGA to go faster, stick an MGB engine in it - there are countless ways to tune the 1.8-litre B-Series engine...
Join the club
Honest John Classics has teamed up with MG Car Club (the world's oldest MG club) to offer readers £5 off single and joint memberships. Joining the club means joining the largest group of MG fans in the world and getting access to first-rate technical knowledge as well as the chance to save money on your insurance premiums. Simply visit www.mgcc.co.uk/join and use the code HONEST5. (Disclaimer: if you join Honest John receives a small fee).
Next: Specifications
Buy a MG MGA from £5,995