Mercedes-Benz SLK-Class (1996 - 2004)
Last updated 22 May 2017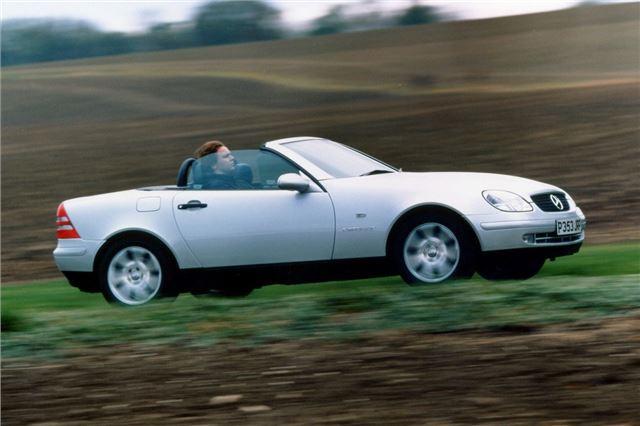 Buying Guide
Good
Achieved an excellent four star rating for crash safety in 2002 NCAP tests.
Mercedes had fifth lowest average cost in warranty claims for cars up to 10 years old in 2002 Warranty Direct index.
Generally 9th lowest average warranty repair costs in 2003 Warranty Direct Reliability index (index 70.79 v/s lowest 31.93)
Fewest problems and faults, average for breakdowns in 2003 Which survey.
38th in 2007 JD Power Customer Satisfaction Survey with rating of 80.4%.
Bad
Offset driving position.

Original official UK imports were automatic 2.3 'Kompressor' only, so more a two-seat roadster than a 'sports car'.

Autobox changes gear on corners when you don't want it to (manual obviously doesn't). Some problems reported with the 5-speed autobox.

Steering is old-fashioned recirculating ball.

Not much boot space.
Watch
Same severe rust problem as other Mercedes from this period, particularly around wheelarches and doorhandles.
Some sellers may try to base used prices on premium price paid rather than market value (by 2007 you could get one for £6,500k at auction). 
LHD 2.0 litre manual 'personal imports' can be a better bet, down to £6k in spring 2007, under £5k by winter 2007.

Make sure the roof opens and shuts properly. Failure of the roof and windows mechanism of an SLK more than 9 years old can effectively write the car off because it can cost more to repair than the car is worth.

All SLK manuals have suffered from pedal box failures. They are badly designed and fatigue sets in. There are plenty of cases of these failing across the various forums, with MB quoting silly money to replace them the replaced assemblies just failing again. The part that fails is the support for a sprung strut attached to the clutch pedal, to change the feel on actuation, which is odd as the clutch is slightly lighter without it. A reader mod is to remove the unsupported parts as a result of the failure and leave it as is. The biggest risk is that when it actually breaks it makes a very loud bang, and there's a strong chance that the now pivoting sprung assembly will jam the clutch pedal and stop it being disengaged.

Sudden downchanges and misbehaviour of autobox followed by severely rough running may be down to gradual failure of the mass airflow sensor.

On 230K oil can leak through the cam magnet into the wiring harness with consequential damage costing around £700 to remedy. Late 230Ks have an extra oil seal to prevent this from happening.  

Isolated complaints of failures of 6-speed manual gearboxes.

Problems starting to emerge with sensors of folding roof mechanisms if not used regularly.

Foglamps prone to moisture ingress and misting up.

Failure of right side pre-cats and cats of SLK320 V6 quite common and Mercedes quotes £1,400 to replace them. www.carparts-direct.co.uk does them much cheaper.

Older SLKs may suffer intermittent failure of indicators. MB suggests changing the whole CCM at £603 +VAT and labour and next the steering wheel switch if the CCM was not at fault. Mercedes Benz Club´s Technical Director explained in that the CCM can be opened up and that just a new relay can be soldered into place. This can be done for £75 through the Club.

Wheelarches of SLKs reportred to be subject to the same sort of corrosion that has afflicted W202/203 C Class, W210 E Class and W220 S Class. Trunk handle corrosion also very common.
4-5-2013: On manuals the clutch slave cylinder is inside the bellhousing, which makes it a £500 in labour job to replace. When MB delareres change the brake fluid, they do not bleed the slave cylinder as well, leaving contaminated fluid in that circuit.
26-7-2014: Buying Used Mercedes W170 SLK Problem Areas: Rust in wheelarches and panel edges; Roof mechanism failure (hydraulic pump expensive unless can find one second-hand); Supercharger (expensive unless bought second hand); ABS/ESP (diagnostics expensive).
1-5-2017: Severe body rot reported in 30,000 mile 2004 Mercedes Benz R170 SLK 320.
22-5-2017: Standard problem of oil leak fron engine cam into wiring loom reported on R170 2003 Mercedes SLK 230 auto. Engine warming light on. Quoted £3,500 to repair by MB dealer. Suggested seeking out an MB independent who might be able to do the job more viably.
Back: Model Timeline
Buy a Mercedes-Benz SLK from £5,900
Compare classic car insurance quotes and buy online. A friendly service offering access to a range of policies and benefits.

Get a quote