Mercedes-Benz SL (1989 - 2001)
Last updated 3 September 2018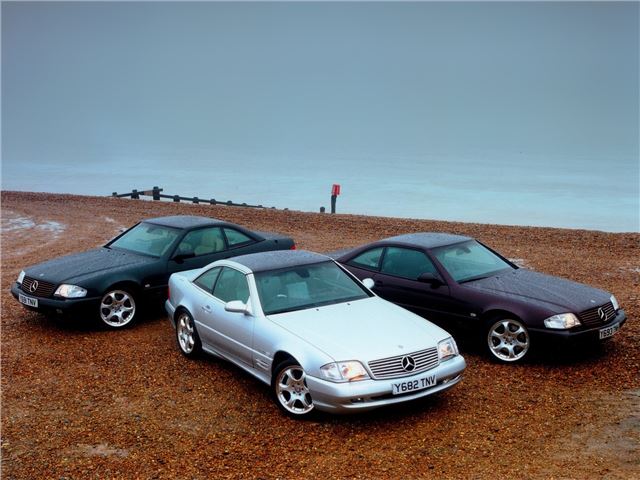 Buying Guide
Good
Model designation R129.
Vastly better looking than previous W107 SL.
14' 10" by 6' wide.
Six-cylinder cars probably the most sensible. 300 12-valve: 190 bhp; 280 12-valve 193 bhp; 300 24v 231 bhp, 320 24v also 231 bhp, pre-cat 500 V8 326 bhp, catalysed 500 from Sept '90 down to 308 bhp, then power up again to 315 bhp from May '95; 600 V12 has 389 bhp; AMG SL60 is a bored-out 5,956cc 381 bhp V8 handles better than 600SL. Most had 4-speed torque converter auto.
All these cars came with a standard, lift-off hardtop which is a two person job to remove.
Instruments chenched from mechanical to digital in 2996.
Best bet is probably the 224 bhp 320SL V6 from June 1998 with 5-speed automatic transmission. There were several limited editions, the first from June 2000 with 18" six hole alloys.
Then, from April 2001 the designo Alanite from April 2001 with Java leather and burr walnut inside  and the designo Almandine wit Bordeaux two tone leather and curly maple anthracite interior trim.
MB had fifth lowest average cost in warranty claims for cars up to 10 years old in 2002 Warranty Direct index. MB generally 9th lowest average warranty repair costs in 2003 Warranty Direct Reliability index (index 70.79 v/s lowest 31.93) Link:- www.reliabilityindex.co.uk
Bad
Splodgy fat car handling.
Automatic gearbox prone to change gear on corners when you don't want it to.
Hugely better replacement with electric folding hard top arrived early 2002 (and promptly sold out).
Watch
Lots of iffy cars with doubtful pasts in the trade: LHD to RHD conversions. Clones. Cancelled Far East Export orders.
Check carefully for repaired body damage. Look for rust at the bottom rear sides of the hard top.
Make sure the aircon blows cold.
Don't buy with the hardtop fitted and no chance to check out the hood operation and the hood itself for mould or tears. Really need 3,000-mile fully synthetic oil changes.
Bulkhead ventilation plenum chamber on these cars can rust out causing a very bad water leak to the front foot well area. The cure requires considerable stripping out of the dash and heater matrix, de-rusting, making suitable sections of new metal and welding these in position followed by sealing and rust proofing.
26-6-2012: R129 SLs have very complex electrics, so the older the car is the more likely these are to be flakey due to moisture ingress, breaking down of insulation, etc. Best to buy as late year as possible.
21-5-2017: Report of intermittent electrical  problem with 1996 R129. Every few weeks SRS warning light on the dashboard comes on faintly while driving and when this happens ,the offside indicator, the wipers and the soft top motor don't work. Fault always disappears by the time the owner gets it to the garage. 

Will be a problem with one of the Signal Acquisition Modules (SAMs): 

http://www.mercedesmedic.com/mercedes-sam-module/

 To trace the fault you need a very good MB SMM unit specialist. Googling <MB SAM Unit Specialists> doesn't immediately find any, but will help you understand the problem.

3-9-2018: Seems that MB identified an issue in early 1998 of a brass bearing in the automatic transmission wearing out and then causing havoc within the gearbox needing a complete rebuild. They came up with a permanent fix in mid 1999 and all cars (R129 through to R230) use the fixed gearbox
Recall data
8/5/2001: Build dates 1/9/1995 to 31/12/1996: high humidity may cause corrosion of trigger mechanism leading to airbag inflating. Airbags to be replaced.
27/4/2001: Build dates 1/1/1993 to 31/12/1996: end of exhaust may break from silencer causing heat damage to rear of car. Rear silencer to be replaced with one of stainless steel if this has not already been done.
Back: Introduction
Next: Running
Compare classic car insurance quotes and buy online. A friendly service offering access to a range of policies and benefits.

Get a quote