Mercedes-Benz SL (1971 - 1989)
Last updated 26 October 2016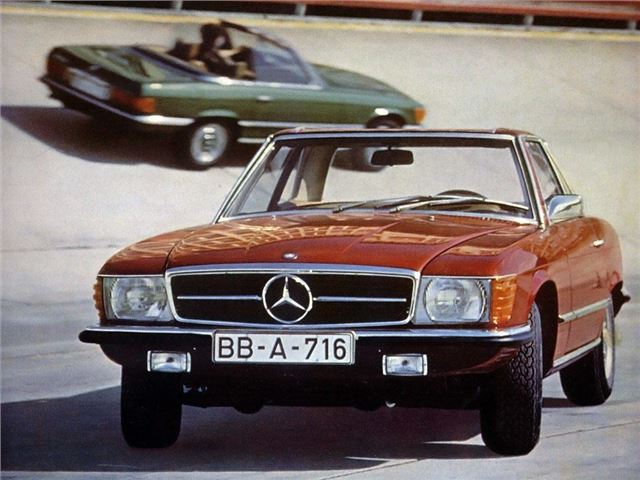 Buying Guide
Good
Roadsters, which had very long model life from 1971 to 1989.
Model designation R107.
14' 5" long by 5' 10" wide.
Six-cylinder engines more economical and cheaper to repair than V8s. A lady in Weybridge used to drive her pet parrot around in one. It just sat there on a box in the passenger seat chattering away.
Some people like them, though, and by late 2009 low mileage W107s were selling for up to £40,000. They offer a more practical ownership experience than the pagodas or earlier SLs which are much better to look at than they are to drive.
Most people acknowledge the 71-85 cars are not as good as the 86-89s.
Bad
We call these 'ribside' roadsters from the FIAT Panda-like ribbing along the sides.
To some eyes, they are really ugly and look like oversized fairground dodgem cars. But other people like them and there is still some status attached to driving one around with the top down.

Watch
Extremely rust prone. Rust around the edges can be seen, but rust in the bulkhead vent well is difficult to find and renders the car beyond economic repair.
Fell into the wrong hands in those middle years between being old cars and becoming 'classics'.
Lots were driven by rich women, some of whom bounced them off kerbs, so check for uneven tyre wear signifying suspension damage.
Be very wary of 'customised' SLs with oversize alloys, vulgar body kits and white leather steering wheels.
If it has aircon, make sure the aircon blows cold. A/c used the old gas, no longer available and can leak when drained and fulled with CFC free gas.
Faulty ABS means a very expensive MoT failure.
Make sure the hood works properly and has no tears. Do not buy one with the hardtop on and the hood folded away.
Was an aftermarket power hood kit but not very well thought of.
Must have had 3,000-mile fully synthetic oil changes.
Take the air filter top off and look for oil in the plenum chamber underneath. If you find any, walk away sharpish.
Back: Introduction
Next: Running