Mercedes-Benz S-Class (1991 - 1999)
Last updated 7 October 2013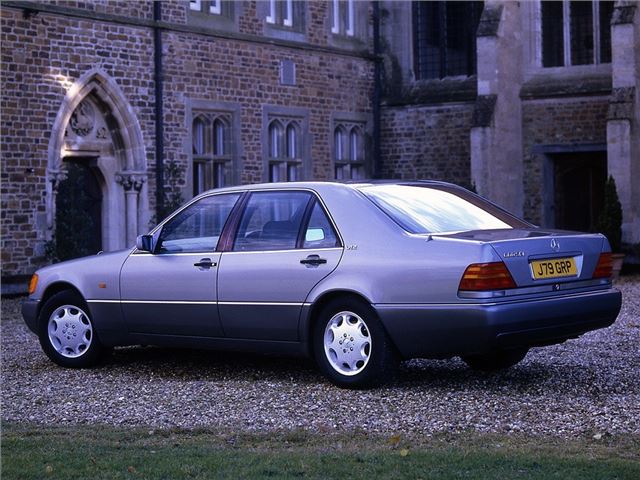 Buying Guide
Good
Sensible engine range from 190 bhp S280 through 228 bhp S300, 286 bhp S420, 308 bhp S500 and awesome 408bhp S600 (power on this cut back to 389 bhp in October 1992).
Good ones drive very well.
Production continued in India from 1999.
Can be a huge amount of car for the money if bought right.
MB was rated by Motor Warranty Direct as Britain's second most claim-free used marque. MB had fifth lowest average cost in warranty claims for cars up to 10 years old in 2002 Warranty Direct index. MB generally 9th lowest average warranty repair costs in 2003 Warranty Direct Reliability index (index 70.79 v/s lowest 31.93) Link:- www.reliabilityindex.co.uk
Bad
All these cars are just a bit too big.
European mid-90s slump left a lot of 'S'-Class unsold - sitting outside in Baltic Sea dockside compounds which won't have done them much good.
Used prices went up and down like a lift in a department store.
All were slow sellers in the UK, particularly in 1997-98.
Official UK sales hit by diverted RHD Far East exports at up to £17,000 less.
Continued to be built in India until late 2001, but some local component quality not up to normal MB standards.
Watch
Tyres are enormous, wear heavily and are very expensive, so budget for this.
Recall data
1997 (1995-96 build): may lose brake fluid from hose.
8/5/2001: Build dates 1/9/1995 to 31/12/1996: high humidity may cause corrosion of trigger mechanism leading to airbag inflating. Airbags to be replaced.
Back: Introduction
Next: Running