Mercedes-Benz W124 Coupe and Cabrio (1987 - 1997)
Last updated 14 November 2016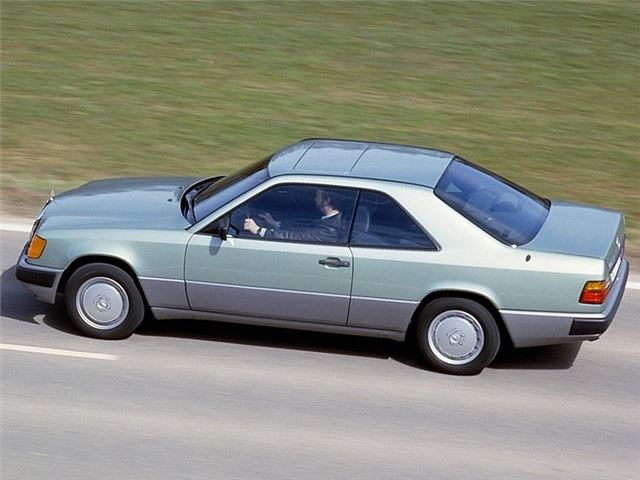 Extremely good looking coupe and convertible, with nice pillarless side window arrangement, solid build quality that disguises miles well, good ones are still capable of turning heads
The usual W124 problem of rusty front wings, look out for expensive examples that aren't as good as they might be underneath
Introduction
The sleek coupé version of the indestructable Mercedes-Benz W124 was based on a shortened saloon floorpan, and proved to be an entertaining and enjoyable drive, especially in six-cylinder form. As with the saloon, it was a styling masterclass, overseen by Brunco Sacco's design team, and despite being so closely based on the four-door, its new coupe roof was elegant and beautifully integrated. Despite the shorter wheelbase (down 4in from the saloon), the CE was extremely roomy inside for such a pretty car, and was easily capable of accommodating four adults on long trips - at high speeds.
It was originally launched in 230CE and 300CE form, with the smaller car featuring the smooth 2.3-litre fuel injected four. But the star of the range was the 300CE, which even today, drives far better than it looks. It was originally powered by a 188bhp 12-valve engine, but this was joined for the 1990 model year by a 24-valve version with 231bhp - and this is the one to have for most people. As with the saloon, you could also order the CE with self-levelling suspension. You may have to pay a little more than suggested for one of those, especially if it comes with manual transmission. 
The Cabriolet was a relatively late addition to the range, being launched in 1991, initially in 300CE-24 form. A little more than a year later, the models were realigned as part of the minor facelift to become the E-Class, becoming the E320 and E220 in 1993. It was the the most expensive model in the four-seat open-top class, with the Saab 900 and Audi Cabriolet gaining more sales on the back of their lower prices - but today, this is reflected in much higher values for the Mercedes-Benz. The super-desirable E36 AMG coupe and Cabriolet are both sought after, and are attracting serious values today. Coupe production ended in 1996, with the Cabriolet being phased out a year later.
Next: Buying Guide
Buy a Mercedes-Benz W124 from £2,500