Mazda RX-8 (2003 - 2012)
Last updated 11 May 2017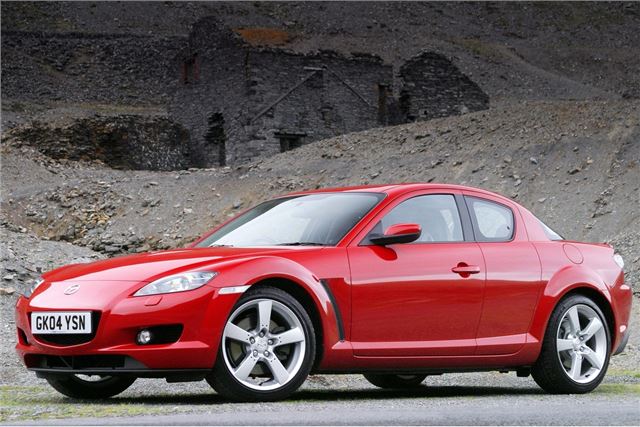 Buying Guide
Both the 190 and 231 emit more than 255g/km CO2. A concession meant that pre 22-6-2006 registered RXs were still taxed as band K at £280pa, but post 22-6-2006 RX8s are taxed as band M at £490pa.
Must check oil every second fill of petrol, but actually uses no more than many conventional cars. 

Recommended oil Dexelia ultra 5W-30 semi synthetic. 

Car must NEVER be started then shut down without reaching full operating temperature or petrol washout will harm rotor seals. Car must not be used for short runs from cold.
On very early 2003 cars, lower suspension arm ball joint and/or entire arm can fail so make sure recall work below has been carried out. 

Make sure a heat shield has been installed between exhaust pipe and plastic fuel tank (particularly important on independent imports which also means ALL automatics). 

Apparently, if the car is stationary for a long time with the revs running high the exhaust ports of the engine can melt, resulting in red hot molten metal shooting into the cat converter, spiking it. 

Have been some early clutch failures, after as little as 11,500 miles. New clutch £940 and unlike original clutches apparently warranted for 2 years or 24k miles. Pipe from oil cooler corrodes, leading to severe oil leak and a seized engine. 

Water gets into the self levelling xenon headlight electrics and replacing both with quotes at more than £1500. Anti roll bar links can fail after three years. 

Cats also prone to failure if the car has either been over-revved or driven short runs from cold (£1,011.31 at Mazda prices). Front anti roll bar links prone to fracture and plastic/nylon sleeve bushes prone to wear.
30-1-2012: RX-8s are fitted with dual mass flywheels that can need replacing in as little as 36,000 miles.
25-1-2014: Hot starting problem on 2004 RX8. Replacing coils did not solve, so probably the rotor seals. Mazda prescribed a new engine, effectively scrapping the car because in January 2014 a 2004 RX8 was worth £750 to £835 trade.
Recalls
7-5-2004 (build 28-7-03 to 29-8-03): Possible cracking of dynamic damper heat insulator. 10-8-2005 (build 28-7-2003 to 27-12-2003). Cracks may occur in lower suspension arm (check exact VINs on Recalls Database).
10-8-2005 (build 28-7-03 to 1-7-2005): Possible fuel leak (check exact VINs on Recalls Database). (TSB to fit heat shield between exhaust system and fuel tank) 

Direct link to VOSA recalls database www.vosa.gov.uk/vosa/apps/recalls/default.asp
Back: Driving
Compare classic car insurance quotes and buy online. A friendly service offering access to a range of policies and benefits.

Get a quote