Mazda MX-5 (1998 - 2005)
Last updated 27 February 2019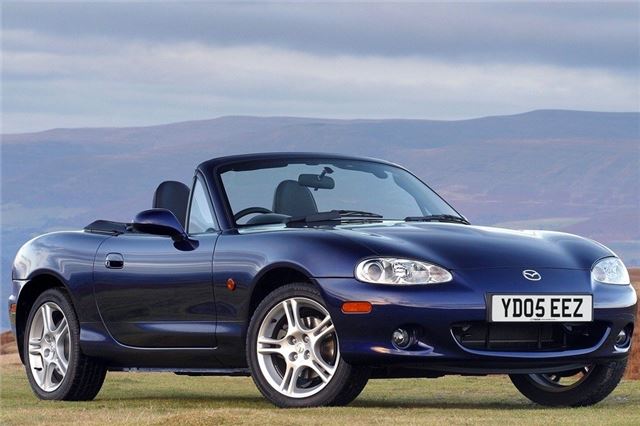 Buying Guide
Good
Achieved a good 74% four star rating for crash safety in 2002 NCAP tests.
8th from top for reliability in Auto Express 2002 survey. 17th equal from Top in 144 car 2002 JD Power / What Car? Customer Satisfaction Survey of V and W reg cars. Even in 2002, the 6-speed 1.8 Sport is still the definitive small, reliable, sportscar. Top of 2002 'Which?' reliability survey cars 2000 - 2002; 5th for cars 1997 - 1999. Mazda generally 4th lowest average warranty repair costs in 2003 Warranty Direct Reliability index (index 47.61 v/s lowest 31.93) 1998-2000 rated average for breakdowns, fewest problems and faults; 2001-2003 rated average for breakdowns, problems and faults in 2003 Which survey. Not due for replacement until 2007. 6th top car out of 137 in 2003 Top Gear survey. 3rd top marque in 2004 J.D. Power Customer Satisfaction Survey. Mazda top of Reliability Index again for 2004 combining low average cost of repair of £244.41 with low 17.88 failures per 100 Warranty Direct policies. Link:- www.reliabilityindex.co.uk
Mazda MX5 parts, accessories and £190 cats: www.mx5parts.co.uk 

Owners Club (with discounted insurance rates for UK cars and imports) www.mx5oc.co.uk 

Specialist dealer www.twwhiteandsons.co.uk
Bad
Still a good drive, but not as comfortable as an MGTF.
Seems to be a clutch judder problem with 2003 model year MX5s apparently caused by a change in the way the transmission is mounted. Means drivers cannot drag the clutch. Have to use it quite sharply.
Steel core plugs in block may corrode and weep coolant. 

Production of this model MX5 ended in May 2005.
1.6 90PS MX5 was desperately slow for a sportscar.
Watch
Uncertificated Eunos Roadsters imported by traders after May 1998 could not legally be registered, so any Eunos Roadster might be a 'clone'. 

MX5s are sports cars, so could have been thrashed. 

Fashion accessory MX5s may not have been serviced properly. 

SVA 'kits' available to get imports through SVA, but non-SVA Japanese parts may then have been put back. 

Check speed ratings on tyres (Japan has a 55 mph limit.) 

Make sure the hood catches work properly as these cost £187 at trade price to replace, plus fitting. 

Check rear wheelarches and wings very carefully for rust. 

How to reprogramme a Mazda Remote: 

www.mazdas247.com/forum/showthread.php?t=121650&highlight=transmitter Then scroll down to 2005 posting by Solid Snake.
Wet carpets are usually the result of the drain holes in the sills becoming blocked with water and dirt running off the hood then filling up the sills and finding its way into the car. Sometimes it can be heard sloshing around. Almost certainly the car will be rusting around the base of the rear wheel arch and sills too. There is no simple cure for the rust, but as a preventative on all MX5s is to use something like a wooden kebab stick tp poke the drain holes clear on a regular basis from new.
19-1-2012: Rust in sills and rear arches becoming a problem on the Mk II MX-5 as well as the Mk I.
20-9-2012: Limited slip diffs appear to be breaking up. See MX5 Forum Thread. Seems to be a good ideat to drain them and remove any bits that have broken off and are being churned around in the oil. A new diff is £2,000+.
28-3-2013: Facelift from Spring 2001 acquired a deformable front crossmember, laminated in a manner that has caused it to become a rust trap that can suffer dangerous structural corrosion. This needs carefully checking before buying because replacement is a difficult and expensive job.
3-4-2014: Two 2003 Mazda MX5s suffered rusted-through sills.
18-1-2016: 2003 Mazda MX5 bought from and serviced by same Mazda dealer from new found to have rust perforation through rear wheelarches and sills. Estimate for repair £1,401.70. 
11-7-2018: Report of noisy diff on late Series II 2005 Mazda MX-5 1.8 Icon at 62,000 miles. Apparently it is a Fujitsu limiteds slip and they can sustain damage during the MoT 'rolling road' brake test. Owner been given the option of having a diff from a different model installed, but this will affect the final drive ratio (currently 4.1:1, but will change to 3.6:1) affecting the speedo etc. 
Recalls
7-12-2000: 135 Jasper Conran Limited Edition MX5s recalled because driver's floormat my interfer with throttle pedal causing throttle to stick open. Mat to be replaced with modified mat. 1
2-12-2003: on 29,555 Mazdas (JMZN...100017 to 314982) repeated thermal expansion and contraction may cause front foglight socket holder to become detached from foglight case and bulb to come into contact with car body or fittings. Spring to be fitted to rear of fog lights to prevent this from happening.
Back: Model Timeline
Buy a Mazda MX-5 from £6,995
Compare classic car insurance quotes and buy online. A friendly service offering access to a range of policies and benefits.

Get a quote