Mazda MX-5 (1989 - 1997)
Last updated 31 August 2017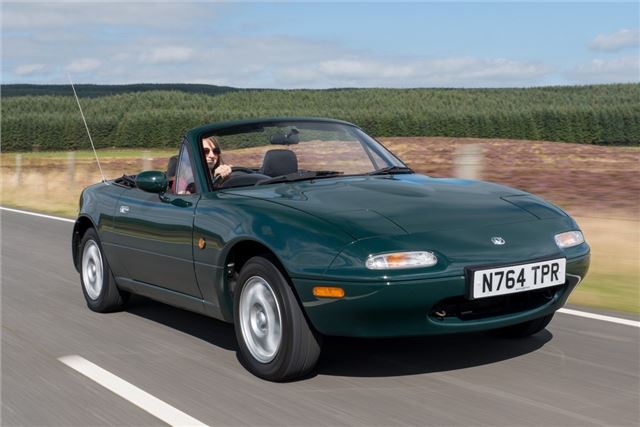 If you want something that feels suitably classic, but doesn't have the reliability issues associated with cars built in the 1970s, then the Mk1 MX-5 is the car you're looking for. It combines a classic shape with an engine and gearbox that can stand the test of time. And it's got pop-up headlamps.
You won't need to worry about not feeling part of the scene, either. There's a well-supported owners' club, lots of MX-5 specific events, and great parts supply. In short - the Mk1 is firmly accepted modern classic, and a great first step into the world of older motors. But what's it like to live with?
We got behind the wheel of a 1996 special edition to find out. Specifically a British Racing Green model, which caused a bit of a stir when it was launched as people associated the colour more with sporting Jaguars and MGs. But it made a useful point - that the MX-5 was the spiritual successor to cars like the MGB and Lotus Elan.
This cost £16k when new, but you can easily pick up a good MX-5 for £3k these days. As well as the colour, this special edition got a black leather interior and 15-inch alloy wheels. Standard equipment also included power steering, immobiliser, and air bag. It really was the best of old and new.
And you instantly feel at home in the cabin. It's simple enough to make it feel old, but has enough mod cons to keep most drivers happy. All the controls fall easily to hand - although you'll need to remember that the indicator is on the right-hand side of the steer column.
The power steering makes it easy to manoeuvre round town, but doesn't get in the way once you're out on the open road, which is when the car comes into its own. With the 1.8-litre producing 140bhp, there's enough power to make it feel quick, but not so much that pressing too hard on the throttle will spin the rear wheels (in the dry).
Thankfully, there are few safety devices to spoil the fun. Like a Lotus, the throttle is linear so push it flat against the floor with the steering wheel on full lock is going have the obvious consequence of provoking the tail to break away. But the car is well balanced and there's plenty of feedback to allow enthusiastic drivers to get the best out the sweet chassis and multi-link suspension.
And like the older cars that it owes a debt to, it doesn't have anti-lock brakes - although it does stop neatly enough thanks to discs all round. This car rides on a standard suspension which, while it may not be very cool, is what we'd always prefer.
Why? Well, the MX-5 was nearly perfect straight out of the box. And while the many (many) modifications out there offer something different, we've never driven one that we prefer to the original. Especially if you're planning to use it every day or over long distances. While it might look great lowered with a big exhaust, that's going to get pretty tedious while you're stuck doing 60mph on the motorway.
Whether you're looking to take your first step into classic motoring, or just fancy something a bit different to run at weekends, you can't go far wrong with a Mk1 MX-5.
Back: Introduction
Next: Buying Guide
Buy a Mazda MX-5 from £6,995
Compare classic car insurance quotes and buy online. A friendly service offering access to a range of policies and benefits.

Get a quote