Mazda 323 (1989 - 1994)
Last updated 21 September 2016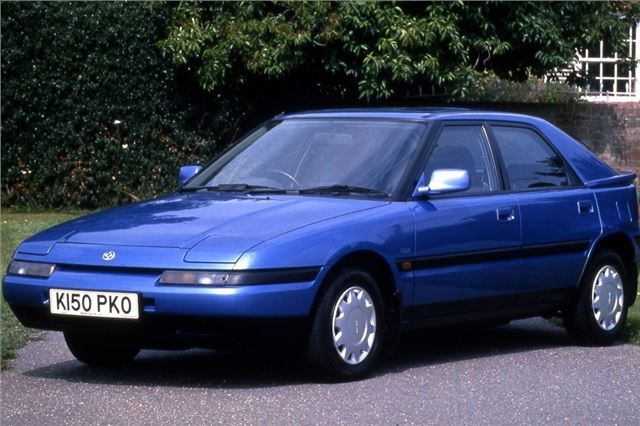 Tidy looks, sweet engines and brilliant reliability. Plenty of kit in SE Exec versions. Got fuel injection from 1991.
Tight rear space and poor rearward vision in F-Types. Handling hasn't been tuned to suit UK tastes. Baffling number of variants.
Introduction
It was unremarkable to drive, admittedly, but the Mazda 323F was an interesting curio within its sector. Indeed, it was interesting enough for Mazda to not bother importing the less interesting 323 5-dr to the UK and focus instead on the model known as the Astina in its home market.
The 323F (for Fastback) had a sport-car inspired cabin, with bucket seats and a three-spoke steering wheel, along with something truly unique in its sector – pop-up headlights. The 1.8 16v GT, if you can find one, is a bit of a Q-car.
Beautifully built and attractive. Low-roofed 5-door F-Type hatchback more of a 5-door coupe. 14' long by 5' 6" wide. Neat 4-door saloon 13' 9" by 5'5" tends to appeal more to the elderly. All under 1,000kg. Sweet engines, all 16-valve. (1,324cc 75 bhp carb; 1,598cc 87 bhp carb; 1,840cc 140 bhp twin-cam injection.) Sensationally reliable. Typically Japanese slick gearchanges. Automatic choke problems of pre-October 1989 323s was solved for this model. SE Exec models very well equipped.
All got fuel injection, as from May 1991, same bodies as before. general good points as 1989 to 1991. Main picture shows F Type which was a sort of four-door hatchback coupe. Mazda had lowest average cost in warranty claims for cars up to 10 years old in 2002 Warranty Direct index.
Next: Buying Guide