Mazda 121 (1991 - 1998)
Last updated 20 August 2013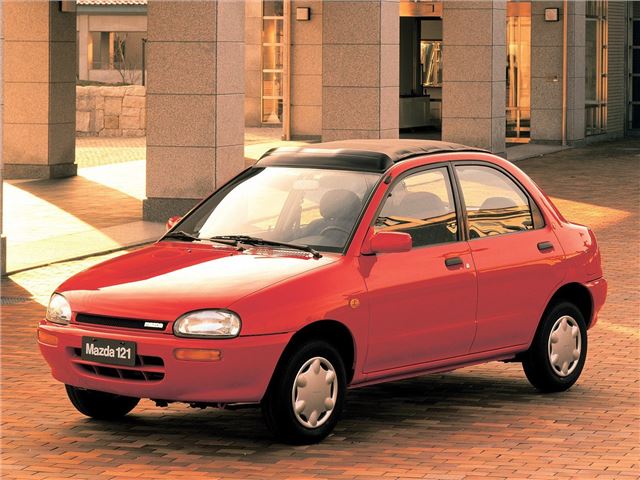 Buying Guide
Good
Cute oddball with amazing headroom and fun looks.
12' 6" long by 5' 5" wide and weighing 861kg.
Later model specification (from April 1993) of manual gearbox, power steering and full-length sun roof by far the best.
1,324cc 74 bhp engine identical to stronger-selling 323.
Sold well in Holland where Mazda was seen as an interesting brand with popular quirky advertising.
May have scarcity value in years to come.
Mazda had lowest average cost in warranty claims for cars up to 10 years old in 2002 Warranty Direct index www.performanceindex.co.uk
Bad
Derided by UK motoring press and simply failed to sell in the UK.
Feb 1991 to April '93 First UK models had silly spec of 4-speed automatic gearbox, but no power steering and no sun roof. (Later replaced by manual with PAS and a full length canvas sunroof.)
So few UK sales that body spares situation is not promising in years to come.
Watch
You have to ask yourself what sort of person would buy one.
Look for eccentric modifications and evidence of bad driving, such as kerbing.
Make sure the electric sunroof works properly and has no tears.
Back: Introduction
Compare classic car insurance quotes and buy online. A friendly service offering access to a range of policies and benefits.

Get a quote