Land Rover Series I (1948 - 1957)
Last updated 6 February 2016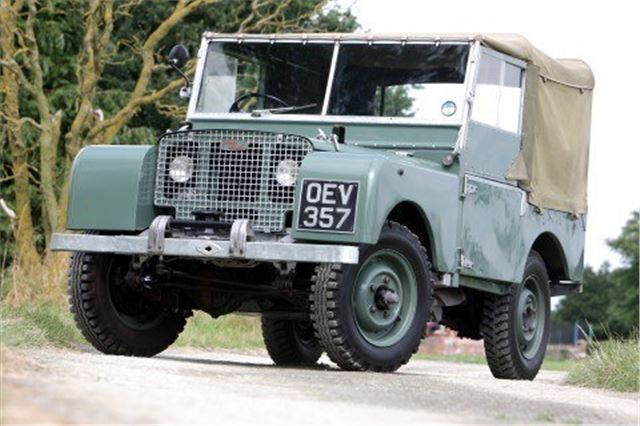 Buying Guide
Bodywork
A sound chassis is critical – get underneath and inspect every inch of the metal.
Box sections tend to corrode from the inside out, so tap as much of the metal as you can.
Spring mountings and rear crossmembers have often seen better days.
Rear bump stops clog up with mud and corrode.
Chassis outriggers can also rot.
Check the back of the chassis for rot behind the spring hangers – this is expensive to repair.
A rotten rear crossmember means you'll have to remove the fuel tank before welding.
Inspect the bulkhead because this can rust and is tricky to repair.
Door pillars can rot badly, but repairs here are easier than you might think.
Trafficators or flashing indicators are now a legal requirement and an inconspicuous 6 volt set can be obtained from Holden Vintage & Classic.
Engine
Parts for diesels can be hard to find.
Watch out for cracked cylinder heads and faulty injectors on oil-burners.
Six-cylinder petrol engines are durable but the valve gear is fiddly to set up so often sound tappety.
Tappets on four-cylinder engines wear quickly.
Oil leaks are common, especially from the flywheel housing, which can be expensive to fix.
Core plugs can weep and so can the water pump.
If the temperature sensor at the back of the cylinder head is wet, the head gasket may have failed.
Rubber valve guide oil seals can dry out then disintegrate unless the car is used regularly.
Check the thermostat housing bolts on all engines as they tend to corrode and seize – a proper repair means removing the cylinder head.
Transmission and running gear
Listen for clonks from worn universal joints.
Make sure the clutch isn't on its last legs.
Listen out for differential whine.
Gearboxes are also tough, but jumping out of gear means there's a problem.
Diff's are generally strong, but the rear will wear the fastest.
Series II and IIA long-wheelbase cars can suffer from broken half-shafts.
Vague steering could be caused by worn ball joints.
Inspect the swivel housings (they look like a ball and socket on the back of each front wheel hub).
You're checking the chrome surface isn't pitted – if it is the seals have leaked and that's an MoT failure.
Front and rear semi-elliptic springs usually rust between the leaves.
The leaves should also be a consistent thickness end to end.
Back: Introduction
Next: Specifications