Land Rover Range Rover (1970 - 1996)
Last updated 5 June 2013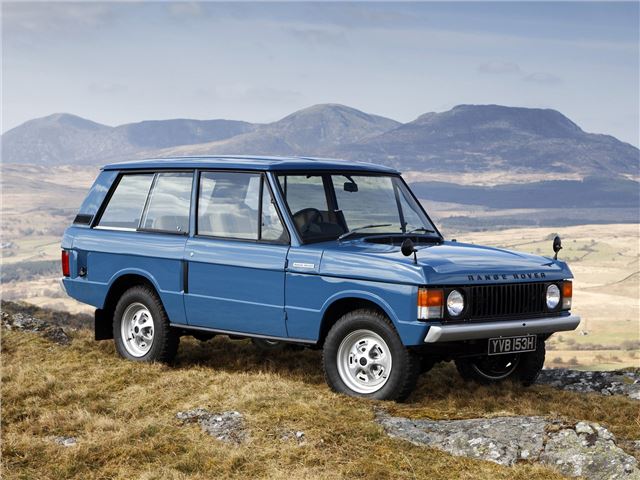 Buying Guide
Good
'Classic' Range Rover, warts and all. Some people still love them.
14' 8" long by 5' 10" wide and from 1724kg to 2150ky for 15' 3" Vogue LSE
4-cylinder 90bhp 2343cc diesels the most economical (later models from October 1989 had 2.5 litre 119bhp VM diesels, then from November 1992 111bhp 2.5 litre Land Rover TDI diesels).
Old carburettor 3528cc V8s to October 1989 had only 130bhp; 3947cc V8s from October 1989 had 185bhp; 4,278cc V8 from October 1992 had 200bhp. Unrivalled cross country performance until the replacement model arrived.
Final metallic-blue 25 individually numbered '25th Anniversary' models the most valuable. Very Low 2 out of nine point death rate from accidents in this model.
Bad
V8s guzzle petrol.
Misfires destroy 'cats'.
Litany of quality problems which may or may not have been sorted by previous owners.
The three-door CSK (Charles Spencer King) was an interesting aberration - not wanted at 2-3 years old, but might develop a cult classic following in years to come if kept clean.
Air suspension fitted to LSE and Vogue SE can be troublesome.
In June 2001 Land Rover was rated by Motor Warranty Direct as Britain's 2nd worst out of 22 marques for warranty claims (www.warrantydirect.co.uk) LandRover had joint highest average cost in warranty claims for cars up to 10 years old in 2002 Warranty Direct index
Watch
The ladder chassis needs to be totally sound check particularly the rear crossmember and if it crinkles, walk away. Always crawl underneath to check the chassis and running gear for off-road damage.
Does the car list and does it run true on a test drive?
The steel floors and wheel arches rust, but there are lots of proprietary repair panels available or you could just have them patchwelded.
The upper and lower tailgates are notorious for it but again numerous replacement options are available.
Most of the outer panels are aluminium, which don't rust of course, but there's usually electrolytic reaction where alloy meets steel.
It's also prone to damage and too much means a careless driver or a real offroad enthusiast – avoid both.
Those V8 engines go on forever if they've had regular oil changes; check for a thick sludge in the filler cap. If you find it, you'll also find gunged up tappets and a shot camshaft.
It also needs a 50/50 coolant mix all year round to prevent the aluminium block from corroding.
Diesel engines are fairly reliable but won't stand being overheated. They're prone to cylinder head warping and cam belts snapping.
Make sure the gadgets work, because fixing them can be very expensive.
Signs of severe usage. Check suspension bushes for wear. Steering box may be worn.
Look for oil leaks from gearbox, transfer case and axles. Make sure rear axle breather not blocked.
Make sure VM diesel not suffering from cracked cylinder heads (white smoke from exhaust; mayonnaise under oil cap).
Sludge on dipstick is really bad news - a walk-away fault because it means the oil has rarely been changed.
Look for dog damage to leather seats and trim. Scuff marks and trim damage from shooting trips.
Alloy parts of body won't rot, but steel parts and chassis do, particularly at the back, and electrolytically corrode where the steel and alloy meet.
Check Boge rear suspension unit.
Avoid cars with specialist, heavy duty tow bars (may have been pulling a 6-ton yacht or, worse still, a mobile hamburger stand). Try to buy town cars rather than country cars. May be reliable, but you can still expect niggling faults.
Recalls
1998: (Jan '94-Mar '97 build): airbag may go off inadvertently.
5-5-2005 Safety Recall R/2004/069: possibility of stress cracks in plastic fuel tank of V8 petrol modeld. build dates 15-4-1993 to 7-9-1998.
Back: Driving
Next: Specifications
Buy a Land Rover Range Rover from £2,000
Compare classic car insurance quotes and buy online. A friendly service offering access to a range of policies and benefits.

Get a quote